Frontier markets are the wild west of the investing universe. These markets include countries like Côte d'Ivoire, Kazakhstan, Bangladesh, Nigeria, Qatar, Tunisia, etc. The equity markets in some of these countries have performed well in recent years which is attracting investors' attention. In a recent article I discussed about these markets and suggested that investors should not into dive into them now.
Investing in frontier markets is not for the faint-hearted due to many risks including political, economic, currency, lack of transparency, etc. Many of these countries will remain as frontier markets for the foreseeable future. While a few of these markets may graduate to emerging market status most of them will not. Investors' enthusiasm for frontier markets is evident with their rising interest in ETFs for these markets. However this enthusiasm may be misplaced.
From the article Are Frontier Markets Ready for Prime Time? in Bloomberg BusinessWeek:
Even so, the frontier represents 30 percent of the world's population, crammed into some of its fastest-growing economies. Nourished with enough stability and free-market reforms, and the noblesse largesse of foreign investors, frontier markets are primed to go more mainstream, especially with ETFs like the fledgling iShares MSCI Frontier 100 (FM) now casting for talent. Seeded with just $10 million when it launched in September, the offering has since swelled to $54 million in assets. The question now is how well this fund, and rival Guggenheim Frontier (FRN), can track the momentum of these scattered tiny markets, all while taking in Western money in an orderly fashion.
The average trading volume in the iShares MSCI Frontier 100 ETF (FM) has more than doubled since its launch last year.
Despite their going popularity, frontier markets are still tiny relative to global equity markets. As of late last year, frontier markets represented less than 1% of the global market based on three indices that track them per a research report by Vanguard. Hence the majority of global equity opportunities are in the developed and emerging world.
Click to enlarge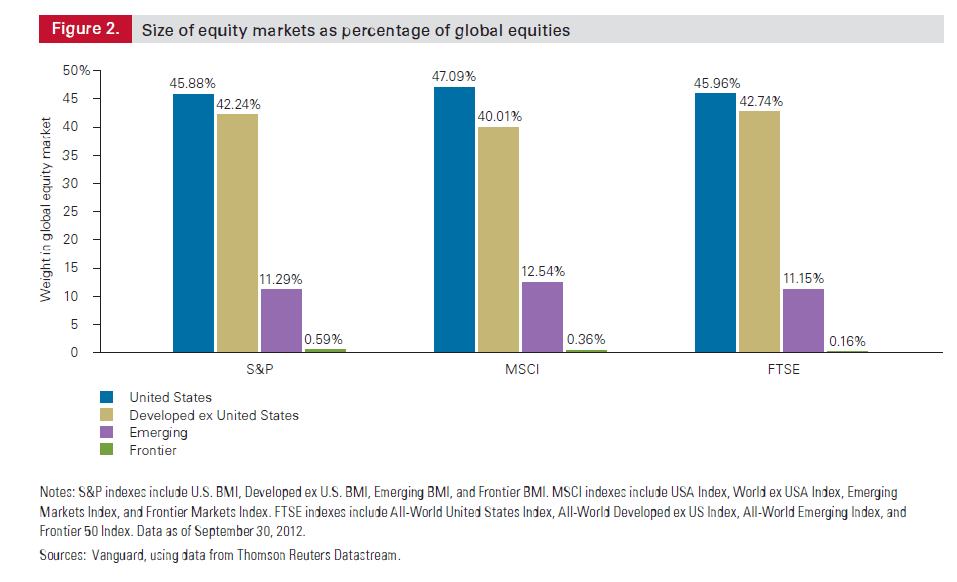 In terms of percentage of global market capitalization also, frontier markets are very small compared to emerging markets.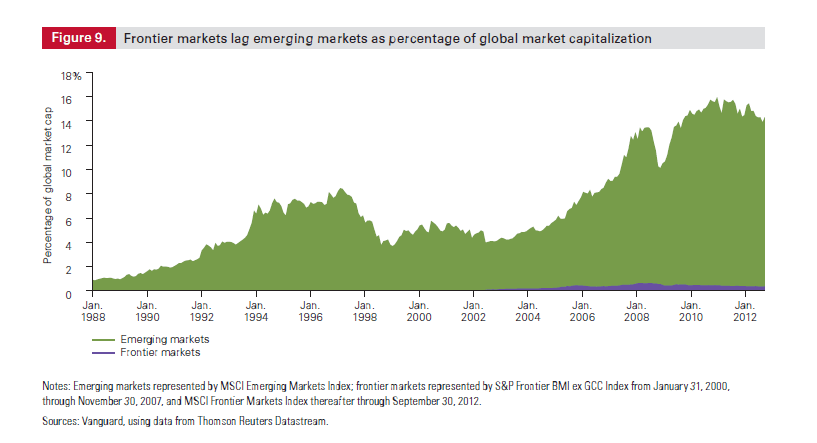 Frontier markets have always lagged emerging markets in market capitalziation at every period in history. For example, while in 1990 emerging markets acocunted for 2% of global market cap as of September 2012 Frontier markets accoutned for just 0.36%.of the global market. After 10 years, emerging markets had grown to 6% of the global market in 2000. But frontier markets have never crossed 0.54% at any point in history.
Source: Exploring the next frontier: A review of frontier equity markets, Vanguard Group
Related ETFs:
iShares

MSCI Frontier 100 Index (

FM

)

Vanguard FTSE Emerging Markets ETF (

VWO

)

iShares

MSCI Emerging Markets Index (

EEM)
Disclosure: No Positions