Walmart(WMT) and Costco(COST) are two of the large retailers that sell food and other consumer staples. In addition, they also sell consumer discretionary items. Both these companies offer membership-based wholesale bulk shopping stores for food and other items. Costcco operates these stores under the Costco brand while Walmart runs it under the Sam's Club brand.
1.Costco Wholesale Corporation (COST)
Costco operates membership warehouses in the US, Puerto Rico, Canada, the United Kingdom, Mexico, Japan, Australia, and through majority owned subsidiaries in Taiwan and Korea. A typical store operates on a seven-day, 69-hour week schedule and is about 143,000 square feet in size. Each store carries thousands of products with many offered in bulk quantities. These stores are popular with consumers as they offer products at some of the cheapest prices anywhere.
Last year the company has about $103.0 billion in sales. In the most recent quarter Costco had revenues of $24.87 billion and made a profit of $547 million. At $101.75/shr the current dividend yield is 1.08%.
2.Walmart Stores Inc (WMT)
Walmart is the largest retailer in the world and is also the world's largest employer. The company operates in all 50 states in the U.S., Puerto Rico and 26 other countries. Its Sam's club unit accounted for about 12% of it net sales in 2012.
Walmart's revenue in 2012 was about four times that of Costco's at $469.0 billion. At the current price of $72.50 the dividend yield is 2.59%.
Here is a chart showing the long-term performance of the two companies and the S&P 500:
Click to enlarge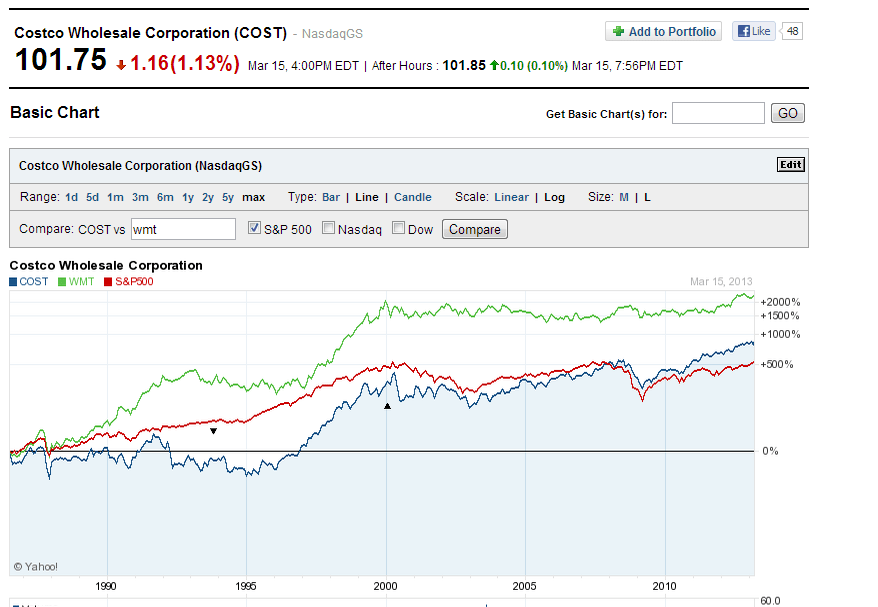 Source: Yahoo Finance
Note: Dividend yields noted are as of Mar 15, 2013
Disclosure: No Positions