One way to profit from the growth of the automotive sector is to invest in auto parts companies. This includes auto parts markets and retailers. Auto makers are not a great investment especially for the long-term due to many issues including legacy obligations and other factors. Auto parts makers and retailers benefit benefit during good and bad times. During normal periods, consumers depend on them for regular maintenance and during recessions people tend to hold on to their existing vehicles longer which inevitably requires parts maintenance and replacement.
The biggest of the three auto-parts retailers in terms of market capitalization is O'Reilly Automotive Inc (ORLY) which has a market cap of over $56 billion based on Friday close. The next top firms are Autozone Inc (AZO) and Advance Auto Parts, Inc.(AAP). AAP is the smallest with a market cap of just under $4 billion.
O'Reily stock is the top performer so far this year with a return of over 10%. Autozone is flat. But Advance Auto Parts has plunged by nearly 58% as shown in the chart below:
Click to enlarge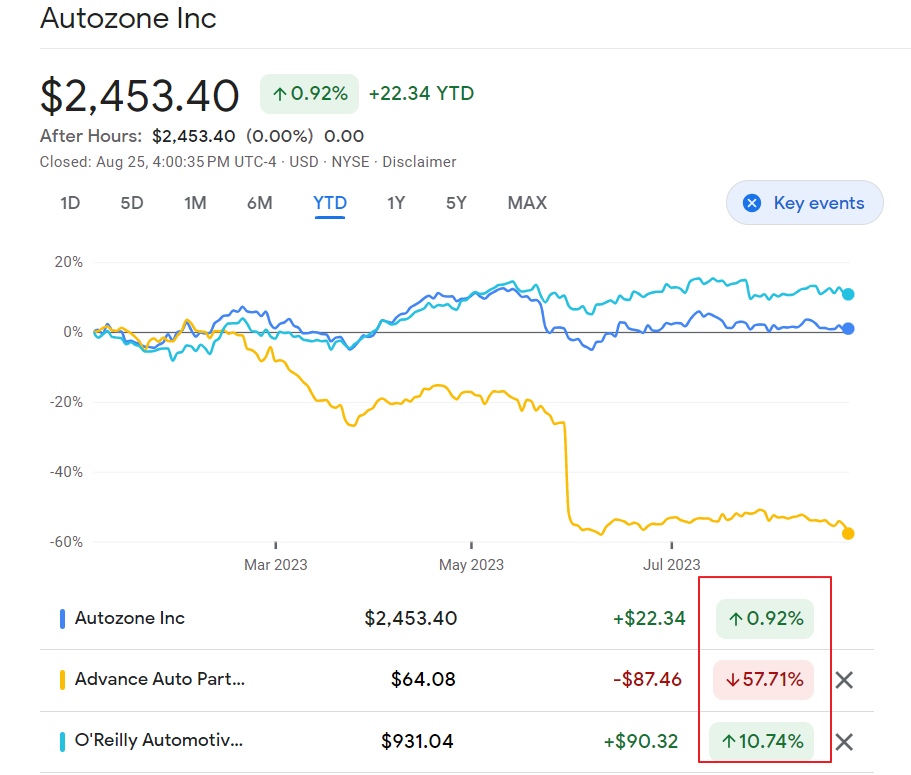 Source: Google Finance
The following chart shows the 5-year returns:
Click to enlarge
Source: Google Finance
In the past 5 years also AAP has been the worst performer. Autozone beat Advance Auto with a return of 220%.
AAP had poor earnings in the first quarter and also slashed its dividend. Consequently its stock had the largest single-day decline ever in May. The company missed its second quarter earnings miss and lowered the forward guidance. With major management changes announced including the replacement of the CEO, it will be a while before AAP recovers. Given its past performance it will be a hard slog. From an investment perspective it is better to avoid AAP.
Disclosure: No positions