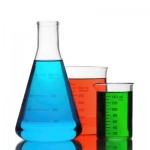 One of the best sectors to own during any market is the chemical sector. Though they are cyclical chemical stocks tend to perform well in the long-run. In the mid-cap chemicals space, one of the names investors can consider is Airgas Inc (ARG). The company is an industrial gas distributor with a solid track record.
The excellent  performance of Airgas since 2000 is shown below:
Click to enlarge
Source: Yahoo Finance
A brief overview from the corporate site:
Airgas, Inc. (NYSE: ARG), through its subsidiaries, is one of the nation's leading suppliers of industrial, medical and specialty gases, and hardgoods, such as welding equipment and related products. Airgas is a leading U.S. producer of atmospheric gases with 16 air separation plants, a leading producer of carbon dioxide, dry ice, and nitrous oxide, one of the largest U.S. suppliers of safety products, and a leading U.S. supplier of refrigerants, ammonia products, and process chemicals.

Airgas was founded in 1982 by Executive Chairman Peter McCausland and became a publicly-traded company in 1986. Through strategic growth initiatives and more than 400 acquisitions, Airgas has become one of the premier industrial gas companies in the U.S., with an unparalleled packaged gas distribution platform. More than 15,000 employees work in approximately 1,100 locations, including branches, retail stores, gas fill plants, specialty gas labs, production facilities and distribution centers. Airgas also markets its products and services through eBusiness, catalog and telesales channels. Its national scale and strong local presence offer a competitive edge to its diversified customer base.
Currently Airgas has market capitalization of over $7.0 billion and a dividend yield of 1.59%. Last year the company had total revenues of around $5.0 billion and the profit margin is around 7.0%.
According to the company's data, a $1,000 investment on Dec 19, 1986 would be worth $103,500.04 today with dividends reinvested yielding a superb return of 10,275.94%.
Also a $1,000 investment made on January 2, 2000 would be worth $ 12,662.55 for a return of 1,176.39% assuming dividends were reinvested.
Note: Dividend yields noted are as of Mar 1, 2013
Disclosure: No Positions