Of all the ratios that are available to evaluate a company, dividend yield is probably one of the best ways to measure the performance of the company. Since dividends have to be paid out of a company's profits there are not many ways to manipulate this figure unlike others. Any company that does not pay dividends is betting on growth to take the stock price higher. Hence these stocks may not suitable for all investors. If a company's strategy or idea fails to take off or a competitors appears leading to loss of market share, a company's stock can get killed. Hence it is always a wise strategy for conservative to look for companies that pay at least some amount of dividends.
While there are plenty of reasons to invest in dividend stocks, the following are five of them: 
Dividends give some form of return to a shareholder. This return can be used by the shareholder any way he wants.This freedom does not  come with non-dividend payers.
Companies that hoard cash and do not pay dividends hold all the power that technically should be belong to shareholders. For example, a company that pays no dividends and hoards billions dollars of earnings can determine how it wants to spend that money. Case in point is Apple which has literally billions in cash and investors are fighting in vain to get Apple to payout more. Other companies simply squander the money on dubious acquisitions.
Dividends paid out to shareholders can be reinvested to boost total returns due to the effect of compounding.
Based on the "bird-in-the-hand" theory dividends are preferable to capital gains since the former is certain and the later is uncertain and may or may not occur in the future.
Dividend payouts on a regular basis such as quarterly is a great way to generate income from investing in equities. This is highly desired by investors such as senior citizens who need the income for living. Holding even millions of a non-dividend paying stock will not give any periodic income.
The following chart shows the strong performance of five solid dividend-payers since 2000:
Click to enlarge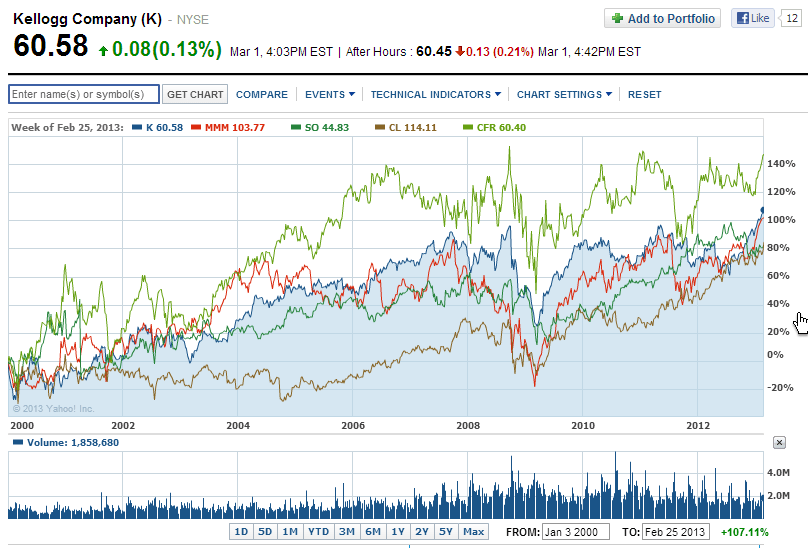 Source: Yahoo Finance
The current dividend yields of the above five stocks are listed below:
1.Company: Kellogg Co (K)
Current Dividend Yield: 2.91%
2.Company: Cullen/Frost Bankers Inc (CFR)
Current Dividend Yield: 3.18%
3.Company: Colgate-Palmolive Co (CL)
Current Dividend Yield: 2.17%
4.Company: 3M Co (MMM)
Current Dividend Yield: 2.45%
5.Company: Southern Co (SO)
Current Dividend Yield: 4.37%
Note: Dividend yields noted are as of Mar 1, 2013
All the stocks yield above 2% in dividends and are very good picks for the long-term.
Disclosure: No Positions