Trade between the Middle East and North Africa (MENA) region and the BRIC countries is increasing yearly since 2001 as shown in the graph below:
Click to enlarge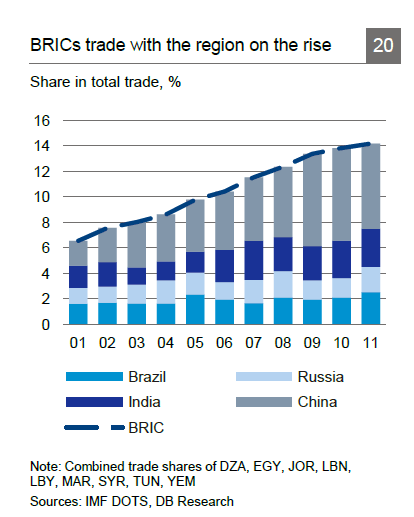 Source: Two years of Arab Spring: Where are we now? What's next?, Deutsche Bank Research
Resource hungry China and India are interested in the natural resources of the region such as oil, natural gas and Phosphates.  China is also increasing its food exports to the region. Egypt, the world's largest wheat importer, imports more than half of its demand from Russia.
The BRIC countries are also some of the major supplier of manufactured products and equipment to the region. For example, Tunisia is the largest market for Brazilian cars in the Arab world. China has a big presence in Algeria with the country home to some 35,000 Chinese workers. India and China are also active in Egypt. Brazil and Russia are slowly starting to increase their investments in the oil and gas sector in the region.
Related ETFs:
Market Vectors Africa Index ETF (AFK)
Market Vectors Gulf States (MES)
PowerShares MENA Frontier Countries ETF (PMNA)
Disclosure: No Positions