The Air Courier and Express Delivery industry is a multi billion dollar industry in the U.S. Here are a few facts about this industry as of 2011:
Number of firms: Over 7,000
Same-day Market: $8.7 billion
Total Market: $14.5 billion
Source: Industry Profile,  MCAA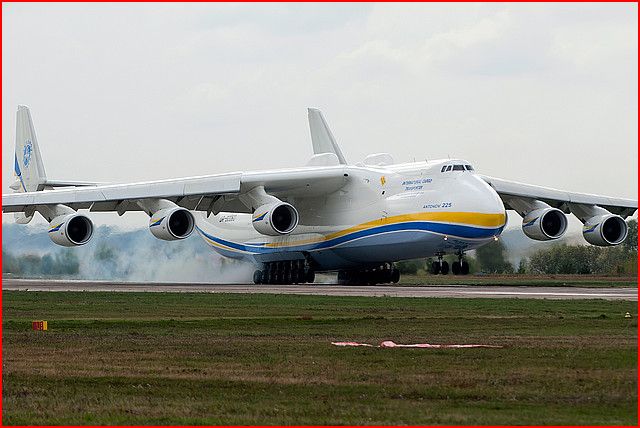 Antonov An-225 – The largest airplane in the world
Competition is fierce in the industry. On this topic the MCAA article notes:
1.2.3 Value of competition in the sector
Courier firms provide an invaluable service because the "big four" (DHL, UPS, FedEx and USPS) in the delivery business simply do not provide same-day delivery services uniquely designed to meet specific individual customer needs. Expedited delivery firms also prevent the big four from having a complete monopoly on deliveries that must be completed in a short period of time. This competition, both among couriers and with the big four, has greatly increased the quality and professionalism of the industry, while also ensuring reasonable rates for customers. These 7,000 plus small businesses also help to keep the pricing competitive and the big four honest. Additionally, the courier industry consists almost entirely of small, locally owned and operated businesses, ensuring that revenue is retained within the community served, rather than siphoned off by a multi-national corporation.
Ten Express Delivery Industry Stocks are listed below with their current dividend yields for further research:
1.Company: Air Transport Services Group Inc (ATSG)
Current Dividend Yield: No Regular Dividends Paid
2.Company: Air Transport Services Group Inc (AIRT)
Current Dividend Yield: 2.58%
3.Company: Forward Air Corporation (FWRD)
Current Dividend Yield: 1.06%
4.Company: FedEx Corporation (FDX)
Current Dividend Yield: 0.53%
5.Company: United Parcel Service, Inc.(UPS)
Current Dividend Yield: 2.99%
6.Company: Atlas Air Worldwide Holdings Inc(AAWW)
Current Dividend Yield: No Regular Dividends Paid
7.Company:C.H. Robinson Worldwide (CHRW)
Current Dividend Yield: 2.42%
8. Company:Expeditors International of Washington Inc (EXPD)
Current Dividend Yield: 1.37%
9.Company: Pacer International Inc (PACR)
Current Dividend Yield: No Regular Dividends Paid
10.Company: Hub Group Inc (HUBG)
Current Dividend Yield: No Regular Dividends Paid
Note: Dividend yields noted are as of Feb 22, 2013
Disclosure: No Positions