Japan has the highest debt to Gross Domestic Product (GDP) in the developed world. Late last year, Japan's sovereign debt exceeded over 200% of the GDP. At that time, the OECD Secretary-General Angel Gurria commented that Japan's debt load was in "Uncharted Territory".
However unlike most countries in the developed world, 90% of Japanese government debt is held by domestic investors. In fact, more than 40% of  all government bonds are held by Japanese banks according to "Financial Stability Report" published by The Bank of England.
Click to enlarge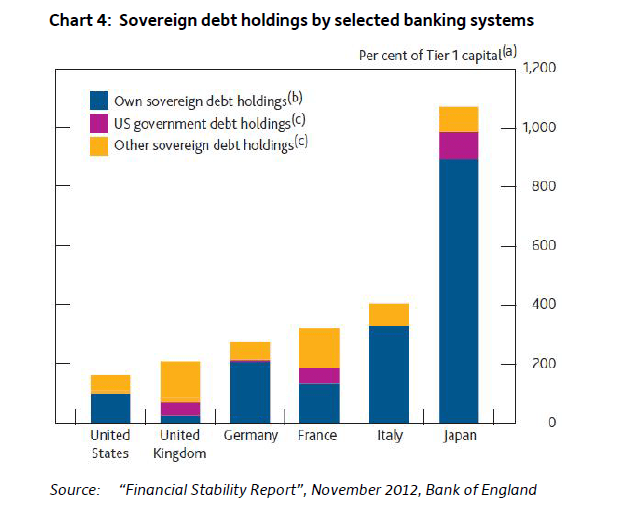 Via  The Absolute Return Letter , February 2013,  Absolute Return Partners
The combined holdings of Japanese government bonds by domestic banks is equal to 9 times of their tier 1 capital. While it can be argues that this is a disaster waiting to happen it is also true that the country's economy remains stable and is not susceptible to the tyranny of global capital as foreign investors do not hold most of Japan's public debt. With one of the highest savings rate in the world and most of the public debt held by domestic investors, the Japanese economy remained stable even during the global financial crisis and has started to expand under the leadership of new Prime Minster Shinzo Abe.
Related ETFs:
iShares MSCI Japan Index (EWJ)
Disclosure: No Positions