According to an article in The Wall Street Journal recently, U.S, exports of coal continues to soar. Last year 120 million tons of black gold was exported compared to about half of that amount in 2009. The following chart shows the gradual increase in coal exports:
Click to enlarge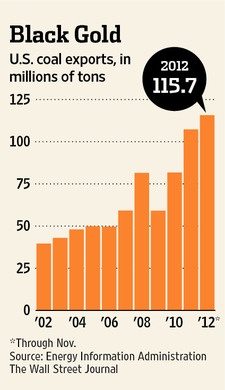 Two interesting facts from the article:
Contrary to popular beliefs coal is not being exported to emerging markets such as India and China but rather to Europe especially the UK, The Netherlands and Italy where coal-powered power plants are having a resurgence.
Unlike in the past when metallurgical coal used to exported, now steam coal which is used in power plants is being exported.
Source:  U.S. Coal Finds Warm Embrace Overseas, The Wall Street Journal
From the U.S. EIA site:
The United States holds the world's largest estimated recoverable reserves of coal and is a net exporter of coal. In 2011, our nation's coal mines produced more than a billion short tons of coal, and more than 90% of this coal was used by U.S. power plants to generate electricity. While coal has been the largest source of electricity generation for over 60 years, its annual share of generation declined from 49% in 2007 to 42% in 2011 as some power producers switched to lower-priced natural gas.
U.S. coal production has also increased since 1950 as shown in the chart below: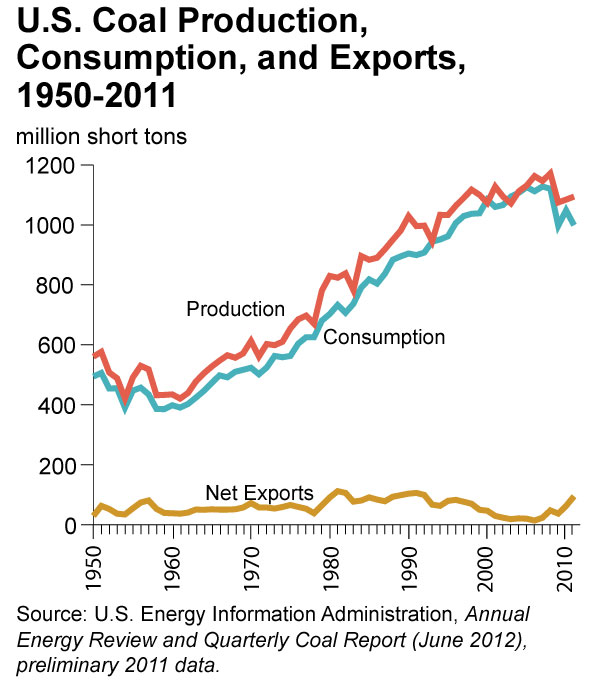 Source: U.S. Energy Information Administration
U.S. net exports has slow increased in the past few years.
Some of the top coal producers are  Peabody Energy Inc(BTU), Arch Coal Inc (ACI) and Alpha Natural Resources Inc (ANR). One way to profit from the rising coal exports is not invest in coal producers but to invest in railroads that transport coal from coal producing regions to export terminals and power plants as noted in my previous article here.
Related ETF:
Market Vectors-Coal ETF (KOL)
Disclosure: No Positions