The housing industry is closely tied to many other industries including finance, home-improvement, machine tools, etc. When the construction industry booms all these industries experience a boom. After the credit crisis most of these industries suffered heavily as consumers cut back on renovations and the housing market tanked badly. As the housing market has stabilized and is slowly recovering, all these industries are showing signs of life.
According to an article in the Journal, as the residential market recovers many companies are enjoying strong sales. From "From Power Tools to Carpets, Housing Recovery Signs Mount":
The U.S. housing recovery is starting to show up in corporate results.

Companies that sell power tools, air conditioners, carpet fibers, furniture and cement mixers are reporting stronger sales for the fourth quarter, providing further evidence that a turnaround in the housing market is taking hold.The results add to data on home construction and pricing that indicate a bottom may have been reached after the sector's long slide. While the incoming data continue to be mixed, evidence that Americans are spending more to build and refurbish homes is raising executives' confidence that the housing market will continue to improve and help fuel the broader economy.
Click to enlarge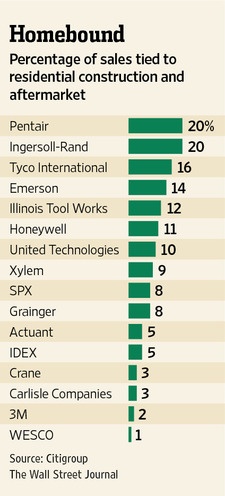 However caution is warranted as many of the housing-related stocks have already shot up in anticipation of the recovery. Hence these stocks may actually fall as the recovery becomes stronger. From another article in the Journal:
Since August 2011, the Philadelphia Housing Sector index of U.S. home-building stocks has jumped about 140%, while the Standard & Poor's 500-stock index is up about 30%. U.S. house prices overall have risen by less than 10%.
Housing stocks have clearly run up too high too fast. So from an investment perspective, it is better to avoid stocks directly related to housing such as home builders, home improvement companies, etc. Banks may provide one option to profit from the recovery as their earnings are broadly diversified.