North American railroads are experiencing a boom in shipment of crude oil in the past few years due to new discoveries and increasing production in both the U.S. and Canada. This is a welcome relief for US railroads since coal shipments continue to decline and there are worries of further declines due to tighter regulations on the coal industry by the Obama administration. For example, CSX Transportation and Norfolk Southern Corp. serving the coal country of West Virginia reported fall in carloads of 17.2% and 12.8% respectively in the third quarter.
From the December AAR Rail Time Indicator report:
U.S. coal carloads averaged 117,135 per week in November 2012, the lowest average for a November since 1993. Year-over-year coal carloads have fallen each month in 2012, and by double-digit percentages in seven of those months. If and when coal-based electricity generation — and thus rail coal traffic — recovers to prior levels will depend on a lot of things, but probably the most significant (in the near term at least) is the price of natural gas. Opinion is divided on what gas prices will do over the next few years. All else equal, the higher they go, the more coal-based electricity generation there will be.
Click to enlarge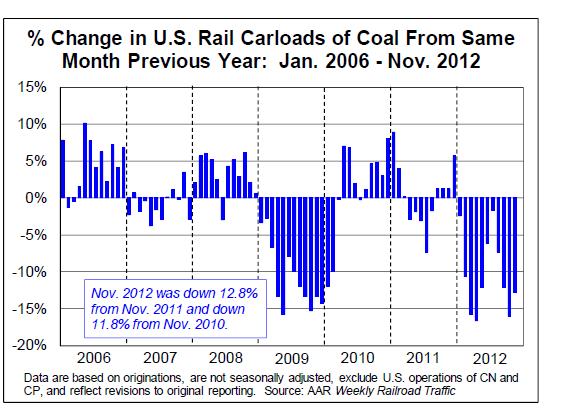 Charts showing U.S. and Canadian carloads of Petroleum and Petroleum Products: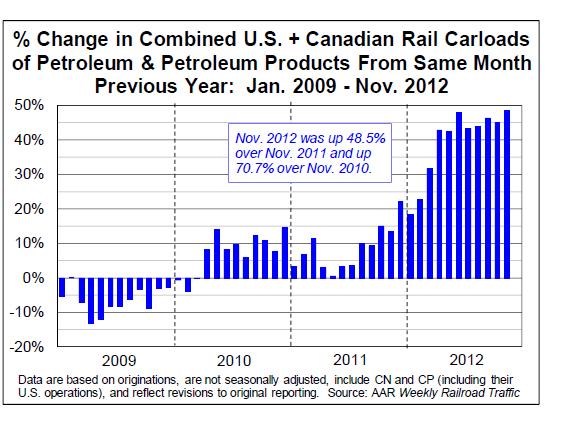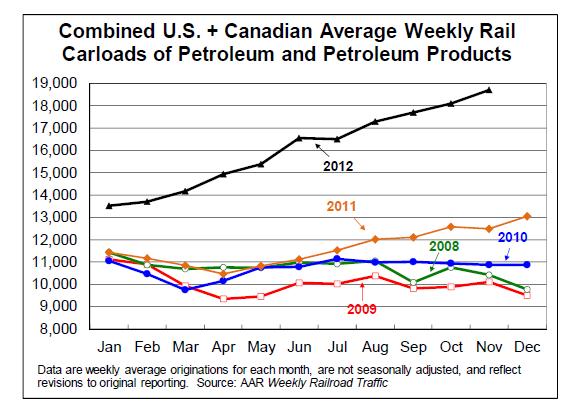 As we noted back in the September 2012 Rail Time Indicators, some people think this category is comprised solely of crude petroleum. It's not, although crude petroleum's share of this category has grown sharply over the past couple of years. Our best estimate is that crude petroleum now accounts for around 38 percent of this category, up from around 3 percent in 2009, 7 percent in 2010, and 15 percent in 2011. Next year, it will probably be somewhat higher. Other products besides crude petroleum that are part of this category include liquefied petroleum gases; asphalt, tar, and pitches; residual fuel oil; lubricating and similar oils; jet fuel; and distillate fuel oil.
U.S. rail carloads of crude petroleum has risen sharply in 2012 relative to 2009 as shown in the graph below: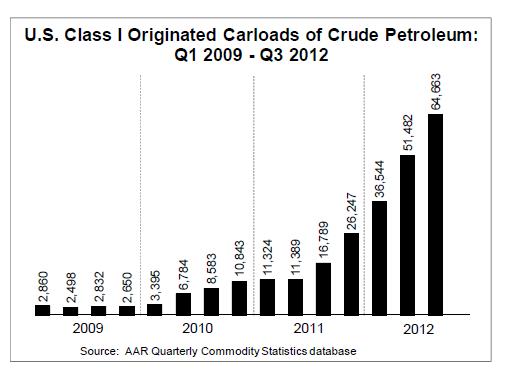 Source: Association of American Railroads (AAR)
A recent Journal article discussed about the increasing crude oil and natural gas shipments by rail and river barges. The article noted that moving oil by rail cars to where refiners are located is useful where there are few pipelines to handle the load.
From the article:
Shipping oil via rail is typically more expensive than by pipeline, however. Loading and unloading rail cars can add as much as $4.50 to the price of a barrel of oil, according to data provided by Marathon Petroleum Corp. MPC -1.47% The transportation costs of moving oil from North Dakota to the East Coast can add up to $10 a barrel. Even so, the delivered crude can still be less expensive than importing it from overseas.

Another factor in gains by rail transport: New pipeline construction faces legal and permitting challenges from environmental groups. Local opposition has prevented pipelines from connecting oil fields in the middle of the country to refineries on the east and west coasts, said Brad Olsen, an analyst with Tudor, Pickering, Holt & Co. "As long as there are no pipes to replace imported high-cost oil on coasts, rail is the only option.
"
Back in August this year, Yadullah Hussain of the Financial Post wrote an an article titled "Crude on the rails: in for the long haul". A few takeaways from the article are listed below:
Worried about the availability of pipeline capacity in Alberta, Canadian oil sands exploration company Southern Pacific Resources Corp. (STP.TO) signed a contract to transport its entire bitumen output by Canadian National (CNI) long term, completely bypassing pipelines.
After Canadian National transports STP's crude oil to Natchez, Mississippi it will be hauled on barges to gulf refineries.
Unlike pipelines, crude oil shipped by railroads does not need to be blended with diluents which saves on costs.
Other energy companies such as Calgary-based Baytex Energy Corp are also increasing their heavy oil shipments by rail.
By August, Calgary-based energy investment firm First Energy Capital Corp estimated about 4% of total North American oil production were shipped by rail. That is equivalent to the addition of a major pipeline.
Canadian Pacific (CP) and Canadian National (CNI) are making new investments to their tracks and terminals to move crude oil with CP projecting to deploy 70,000 carloads to transport oil by 2013.
Here is an interesting quote from another article:
"Crude by rail is becoming a reality," said Walter Spracklin, a transportation analyst at RBC Capital Markets in Toronto. "Before, it was a theory."
North American transportation infrastructure is mostly designed for automobile use and gasoline consumption is bound to go up in the future. With the U.S. trying to reduce its dependence on foreign oil and the discovery of new energy sources within North America, railroads should benefit from the increase in crude oil shipment business. Legal and environmental battles fought by pipeline operators such as TransCanada(TRP) with its Keystone XL Pipeline Project are only going to increase the importance of railroads to oil producers.
In summary, investors may consider adding positions in Canadian National Railway (CNI), Canadian Pacific (CP), CSX Corporation (CSX), Norfolk Southern Corp(NSC) and Union Pacific Corporation (UNP). Canadian Pacific's stock has shot up nicely from under $50 in October 2011 to close at $100.78 on Friday due to Bill Ackman's victory in removing the CEO and other "old-boys" club management directors and installing the former Canadian National CEO Hunter Harrison as the new CEO. Hence much of the recent price increase is based on the hope that Mr.Harrison would turn around CP to become an efficient and more profitable railroad. So it is wise to wait and add CP at lower levels.
Disclosure: Long CNI, CSX, NSC
Update:
CP Rail shipment deal signals rail transport no longer just a stopgap measure for oil producers (Financial Post)