Auto sales in the U.S. recovered strongly this year with sales in November increasing by 21.9% relative the same month in 2011. After a strong start in January sales declined earlier in the year but has been on an upward trend from the middle of the year according auto sales data compiled by The Wall Street Journal.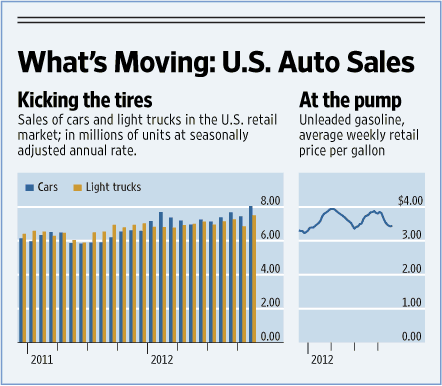 Source: The Wall Street Journal
However this is not the case in Europe. New auto registrations in the European Union has been on an decline for 14 consecutive months now.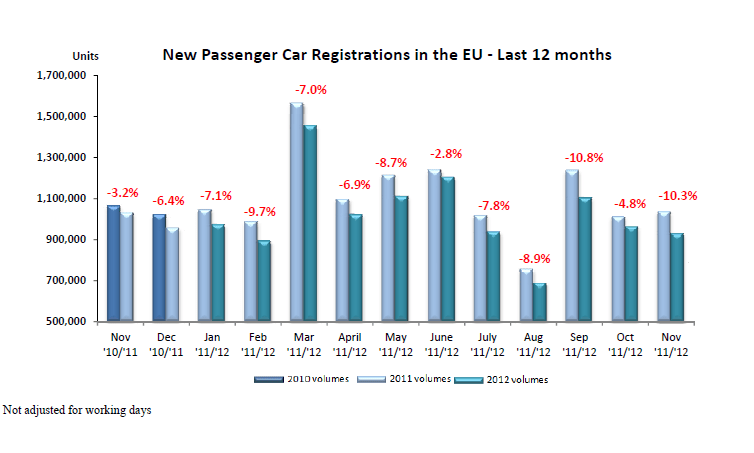 Source: European Automobile Manufacturers' Association
In November new car registrations were down 10.3% compared to November, 2011. Except in the UK, demand for new autos declined most of the EU countries with sales down -3.5% in Germany, -19.2% in France, -20.1% in Italy and -20.3% in Spain. Year-to-date the UK is the only market where new car sales were up with Spain, France and Italy recording double digit declines. The year-to-date demand for new autos fell to 7.6% in the EU, a historical low since 1993.
A few years ago many EU countries implemented subsidized car replacement programs which boosted new car sales. However due to the ongoing austerity measures such programs do not exist now. High unemployment rates in France, Spain, Italy and other countries, stagnant wages, rising cost of living, etc.  have contributed to the decline in car sales.
Similar to the U.S. the automotive industry is one of the key industries in many European countries. Hence continued decline in new car sales does not bode well for the industry. Investors may want to avoid European auto makers such as PSA Peugeot Citroen (PEUGY), Volkswagen AG (VLKPY) as they dominate the market in the EU though American auto makers Ford Motor Co. (F) and General Motors Company (GM) are top competitors as well.
Disclosure: No Positions