The global financial crisis and the ongoing European fiscal crisis have exposed the differences in strength of major banks in Europe. As the banking landscape has significantly changed in recent years, investors are trying to separate the wheat from the chaff. Accordingly strong and well-run banks will be preferred by investors while the weaker banks will continue to struggle for some more years.
An article in the FT Alphaville yesterday noted that  "Greater differentiation in European banks stocks is likely" quoting a research report by Morgan Stanley.From the report:
…our key focus is on just a handful of cheap banks with strong earnings power in their core franchises and that have reasonable odds that they can accelerate restructuring, exit non-core assets effectively and, critically, start to pay meaningful dividends. Swedbank replaces Credit Agricole as one of our top picks. Most Preferred list: UBS, BNP, Barclays, Swedbank, Sberbank and Aberdeen.
The Tier 1 ratio is a measure a bank's financial strength. Hence higher the Tier 1 ratio the stronger the bank.
The Core Tier 1 Ratio of large European banks under Basel III standards are shown in the chart below:
Click to enlarge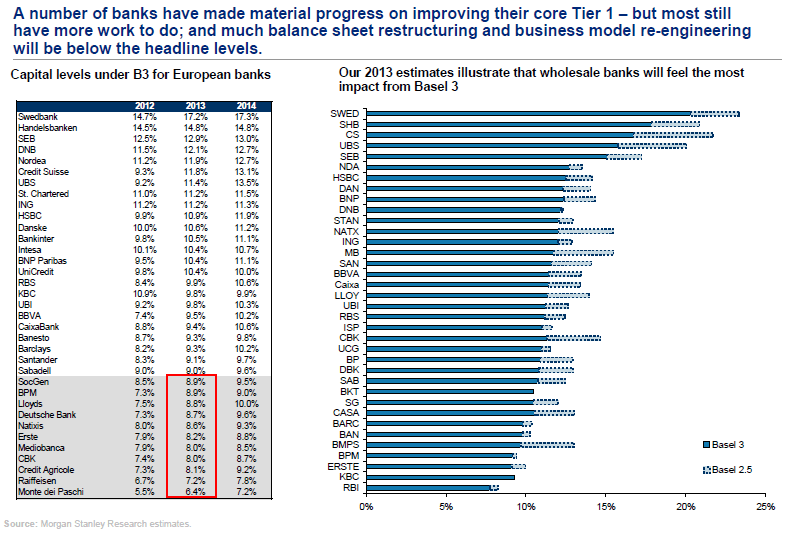 Source: European banks: same, same, and eventually different, FT Alphaville
It is not surprising to see Nordic banks top the list. Swedbank (SWDBY), Svenska Handelsbanken AB (SVNLY), SEB, DNB ASA (DNHBY), Nordea Bank (NRBAY) are projected to have high capital levels next year and in 2014. Hence investors looking to add European bank stocks can initiate new positions in these banks and avoid the banks at the bottom part of the list. The Russian bank Sberbank Rossii OAO (SBRCY) has a $60.5 billion market capitalization and a 2.24% dividend yield.
Disclosure: Long SWDBY