Investors should invest for the long-term and should not try to time the markets. This is especially important for retail investors who lack the time, effort and information necessary to trade for short-term gains. Even most professional money managers with access to powerful tools and better information rarely perform better than the benchmarks.
Equity markets do not always go up in a straight line in any country. There will be bull markets followed be bear markets and the cycle will continue. The following chart shows the performance of the MSCI World Index from 1970 to 2001:
Click to enlarge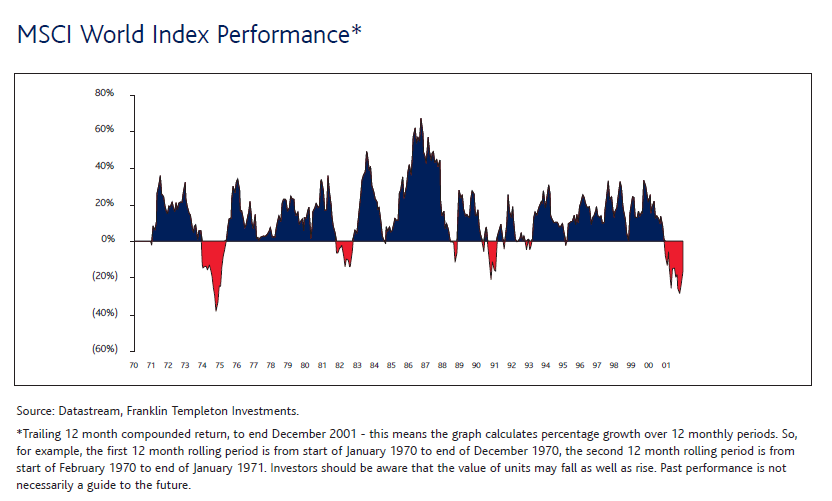 Source: Why Stock Market Investment?, Royal Skandia
The number of bull markets far exceeds the number of bear markets as shown in the chart above. In addition, the gains produced during bull markets far exceed the losses produced in down markets. Hence investors that stay invested for the long-term get rewarded well for their patience.
For example, though U.S. stocks had a lost decade from Dec 31, 1999 through Dec. 14, 2009 with the S&P 500 losing 23%, smart investors who invested in dividend stocks would have better returns. Choosing stocks with yields of about 3% would have produced a decent return in the "lost decade" due to the effect of dividend reinvestment and compounding.
From a recent article on UK stocks:
For instance, looking at the past 14 years, it could be argued that the FTSE 100 has delivered zero capital returns, with the index being at exactly the same level as it was in February 1998.

The only return, apparently, is from dividends of around 3-4% per annum, which when compounded gives a total return of around 70% over the period.
Hence though the overall stock market goes nowhere during a specific period, investors can still do well by building a portfolio of high-quality dividend stocks and reinvesting the dividends.
Ten foreign stocks to hold for the long-term are listed below with their current dividend yields:
1.Company: Empresa Nacional de Electricidad SA (EOC)
Current Dividend Yield: 3.31%
Sector: Electric Utilities
Country:Chile
2.Company: DBS Group Holdings Ltd (DBSDY)
Current Dividend Yield: 5.75%
Sector:Banking
Country: Singapore
3.Company: Administradora de Fondos de Pensiones Provida SA (PVD)
Current Dividend Yield: 6.43%
Sector: Investment Services
Country: Chile
4.Company: Toronto Dominion Bank (TD)
Current Dividend Yield: 3.76%
Sector: Banking
Country: Canada
5.Company: National Grid PLC (NGG)
Current Dividend Yield: 5.52%
Sector: Electric Utilities
Country: UK
6.Company: Telefonica SA (TEF)
Current Dividend Yield: 9.82%
Sector: Telecom
Country: Spain
7.Company: Banco do Brasil SA (BDORY)
Current Dividend Yield: 4.08%
Sector: Banking
Country: Brazil
8.Company:Cpfl Energia SA (CPL)
Current Dividend Yield: 6.44%
Sector:Electric Utilities
Country: Brazil
9.Company: Australia and New Zealand Banking Group Ltd (ANZBY)
Current Dividend Yield: 5.45%
Sector: Banking
Country: Australia
10.Company:EDP Energias de Portugal SA (EDPFY)
Current Dividend Yield: 8.53%
Sector:Electric Utilities
Country: Portugal
Note: Dividend yields are as of Oct 19, 2012
Disclosure: Long TD