Many investors consider defensive sector stocks to be boring and under-performing in both the short and long-terms. However contrary to their beliefs the defensive sector actually yields superior returns especially in the long-term, which can be defined as a holding period at least five years. Not only do these stocks offer higher returns they also also offer stability to a diversified portfolio during adverse market conditions such as the meltdown of global equity markets during the financial crisis.
A research report by Credit Suisse research report last year noted that from 1995 thru 2011, defensive sectors outperformed the broader market as measured by the MSCI World Index by about 130 percent.  Using the US market as an example of this strategy, the following chart shows the performance comparison of the S&P 500 and Consumer Staples sector ETFs:
Click to enlarge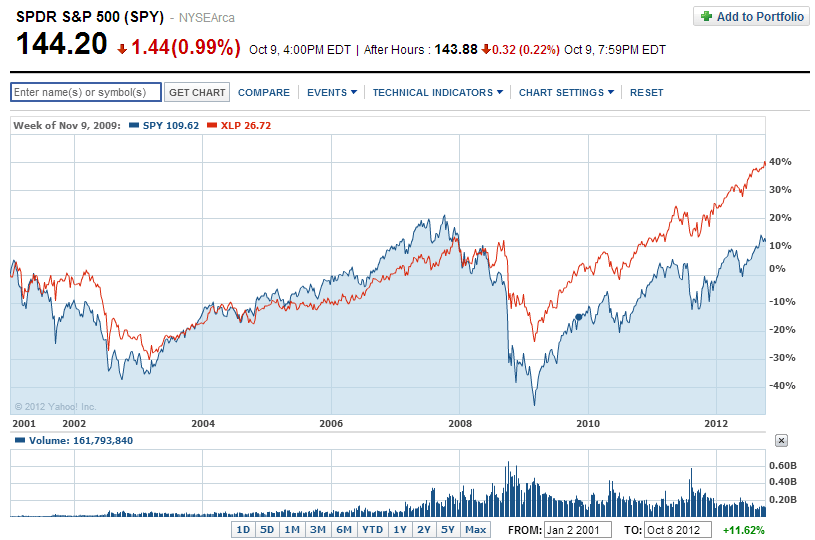 Source: Yahoo Finance
During the March 2009 lows reached by the S&P 500 index the defensive sector ETF held up well  and has continued to outperform. While the S&P 500 index ETF (SPY) has returned about 10% since 2001, the consumer staples ETF(XLP) has grown by about 40%.
Defensive sectors outperform over the long-term due to the compounding effect of dividends, stable growth and they are also relatively less affected by economic cycles. For example, regardless of the state of the economy consumers buy food, toothpaste, drugs and use electricity, mobile phones, etc. Companies operating in the sector are usually well-established and have strong cash-flows which helps to make consistent dividend payments and also dividend increases occasionally.
Investors looking to add defensive stocks to their portfolios can consider the foreign stocks listed below:
1.Company: Coca Cola Femsa SAB de CV (KOF)
Sector:Beverages (Nonalcoholic)
Current Dividend Yield: 1.46%
Country: Mexico
2.Company: Unilever NV (UN)
Sector:Food Processing
Current Dividend Yield: 3.34%
Country: The Netherlands
3.Company: Diageo PLC (DEO)
Sector:Beverages (Alcoholic)
Current Dividend Yield: 2.43%
Country: The UK
4.Company: Bayer AG (BAYRY)
Sector: Major Drugs
Current Dividend Yield: 2.42%
Country: Germany
5.Company: Vodafone Group PLC (VOD)
Sector: Telecom
Current Dividend Yield: 5.11%
Country: UK
6.Company: Danone SA (DANOY)
Sector:Food Processing
Current Dividend Yield: 2.98%
Country: France
7.Company: Henkel AG (HENKY)
Sector: Household goods
Current Dividend Yield: 1.53%
Country: Germany
8.Company: British American Tobacco PLC (BTI)
Sector: Tobacco
Current Dividend Yield: 4.01%
Country: UK
9.Company: Vina Concha y Toro (VCO)
Sector: Beverages (Alcoholic)
Current Dividend Yield: 2.41%
Country: Chile
10.Company: Teva Pharmaceutical Industries Ltd (TEVA)
Sector: Biotechnology & Drugs
Current Dividend Yield: 2.45%
Country: Israel
Note: Dividend yields noted are as of Oct 9, 2012
Disclosure: Long HENKY