The Nordic countries of Denmark, Finland, Norway and Sweden are somewhat insulated from the crises engulfing Europe. These countries are not member of the European Monetary Union (EMU) and hence do not have the Euro as their currency. Staying outside of the Eurozone the Nordics set their own economic policies according to their national priorities. These countries have many positive factors such as strong fiscal position, low to no public debts,low unemployment rates, stable currencies, etc. Hence investors looking to gain some exposure to European companies may want to consider adding some Nordic stocks.
The Nordic equity markets have traditionally performed better than other the markets in European countries.
Click to enlarge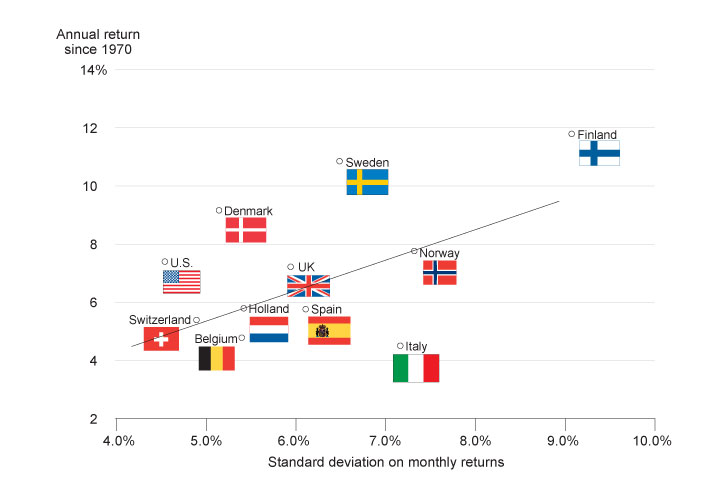 Source: Nordics dodge the debt crisis, Fidelity
Finland has the highest annual returns at over 9.0% among the Nordics. However currently Swedish and Norwegian economies are in better shape than the economies of Finland and Denmark.
From an investment perspective, it is wise to avoid Danish banks.A few regional banks have failed since the credit crisis and though the contagion did not spread major national banks, investors can avoid the sector for now. While the central banks of many countries reduced the interest rates to zero, Denmark went even further and set the interest rates to negative earlier this year. The public debt is low and the kroner has strengthened against the Euro this year.The economy is diversified
with drug, green technology, farm products and other industries. (Source: Denmark's Subzero Rate Adventure, Bloomberg BusinessWeek)
The Norwegian economy is highly dependent on crude oil exports but the country has built a solid sovereign fund using oil revenues. Oil prices have recovered strongly in the past few months and is unlikely to collapse unless the global economy falls back into recession. Norway also has no debts.
The Swedish and Finnish economies are also in better shape than most European economies.The Swedish banking
sector has rebounded nicely since the financial crisis and is returning to pre-crisis levels.A recent journal article discussed about how the Swedish banking sector is benefiting from the flight of deposits from Eurozone countries.
Only a handful of Nordic stocks trade on the organized exchanges. Hence investing in stocks directly is a challenge and investors have to go to the OTC markets where many of the stocks are traded. For those who prefer the ETF route, the iShares MSCI Sweden Index(EWD), Global X Funds(NORW) , iShares MSCI Finland Capped Investable Market (EFNL) and iShares MSCI Denmark Capped Investable Market (EDEN) ETFs offer easier access to these markets.
Some of the Nordic stocks trading on the US markets are listed below:
1.Company: NOVO NORDISK A/S (NVO)
Current Dividend Yield: 1.59%
Sector: Health Technology
Country: Denmark
2.Company: STATOIL ASA (STO)
Current Dividend Yield: 4.14%
Sector: Energy Minerals
Country: Norway
3.Company: CARLSBERG A/S (CABGY)
Current Dividend Yield: 1.08%
Sector: Alcoholic Beverages
Country: Denmark
4.Company: DNB NOR ASA (DNHBY)
Current Dividend Yield: 2.83%
Sector: Banking
Country: Norway
5.Company: ELECTROLUX AB (ELUXY)
Current Dividend Yield: 3.86%
Sector: Consumer Durables
Country: Sweden
6.Company: FORTUM OYJ (FOJCY)
Current Dividend Yield: 7.13%
Sector: Utilities
Country: Finland
7.Company: SWEDISH MATCH AB (SWMAY)
Current Dividend Yield: 2.27%
Sector: Consumer Non-Durables
Country: Sweden
8.Company: NOKIAN TYRES OYJ (NKRKY)
Current Dividend Yield: 3.82%
Sector: Consumer Durables
Country: Finland
9.Company: SVENSKA HANDELSBANKEN AB (SVNLY)
Current Dividend Yield:
Sector: Banking
Country: Sweden
10.Company: SWEDBANK AB (SWDBY)
Current Dividend Yield: N/A
Sector: Banking
Country: Sweden
11.Company: PETROLEUM GEO-SERVICES ASA (PGSVY)
Current Dividend Yield: 1.12%
Sector: Oil Well Services & Equipment
Country: Norway
12.Company: SCANIA AB (SVKBY)
Current Dividend Yield: 3.92%
Sector: Producer Manufacturing
Country: Sweden
13.Company: STORA ENSO OYJ (SEOAY)
Current Dividend Yield: 6.22%
Sector: Process Industries
Country: Finland
14.Company: TELIASONERA AB (TLSNY)
Current Dividend Yield: 5.87%
Sector: Telecom
Country: Sweden
15.Company: YARA INTERNATIONAL ASA (YARIY)
Current Dividend Yield: 2.33%
Sector: Process Industries
Country: Norway
Note: Dividend yields note are as of Oct 1, 2012
Disclosure: Long SWDBY, FOJCY, EWD