Foreign stocks have traditionally had higher dividend yields than U.S. stocks due to a variety of reasons. While U.S. firms prefer to retain excess earnings for future growth companies in other countries tend to payout a higher portion of earnings to investors in the form of dividends. In some countries such as Australia favorable tax treatment of dividends also encourages firm to payout more.
The current yield on the S&P 500 is 2.06%. For many years the dividend yield on the S&P 500 has stayed around 2%. Compared to this rate many foreign countries have much higher dividend yields.
The following chart shows the dividend yield by country as of the end of July and comparison of yields between U.S. and foreign stocks over a 10-year period:
Click to enlarge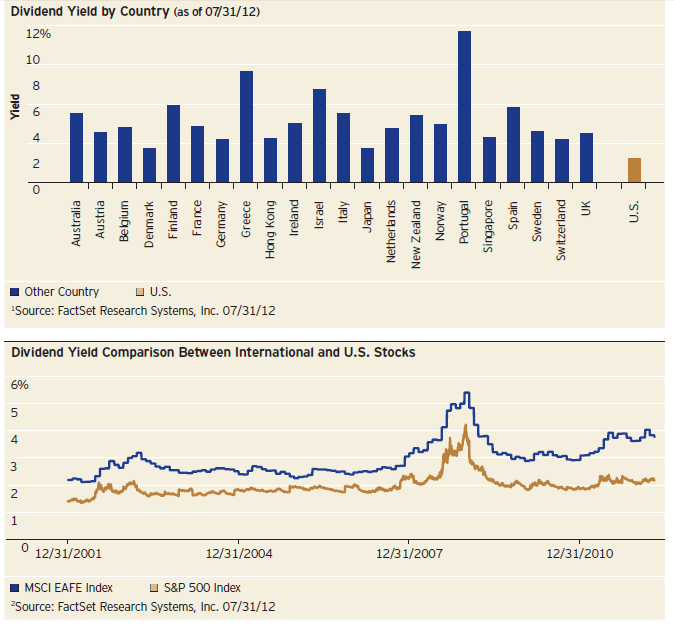 Source: International Dividend Sustainability Portfolio 2012-13, Invesco
Over a 10-year period ending July 2012, foreign stocks based on the MSCI EAFE index yielded on an average about 1% more in dividends than U.S. stocks as represented by the S&P 500 index.
Ten foreign dividend stocks having more than 3% dividend yields are listed below for further research:
1.Company: CorpBanca (BCA)
Current Dividend Yield:
Sector: Banking
Country: Chile
2.Company: Telefonica SA (TEF)
Current Dividend Yield: 8.92%
Sector: Telecom
Country: Spain
3.Company: DBS Group Holdings Ltd (DBSDY)
Current Dividend Yield: 5.42%
Sector: Banking
Country: Singapore
4.Company: Companhia Energetica de Minas Gerais Cemig (CIG)
Current Dividend Yield: 13.00%
Sector: Electric Utilities
Country: Brazil
5.Company: Administradora de Fondos de Pensiones Provida SA (PVD)
Current Dividend Yield: 7.42%
Sector: Investment Services
Country:Chile
6.Company: Philippine Long Distance Telephone Co (PHI)
Current Dividend Yield: 4.22%
Sector: Telecom
Country:Philippines
7.Company: Fortum Oyj (FOJCY)
Current Dividend Yield: 6.42%
Sector: Utility
Country: Finland
8.Company:Enersis SA (ENI)
Current Dividend Yield: 3.46%
Sector: Electric Utilities
Country: Chile
9.Company: Enel Spa(ENLAY)
Current Dividend Yield: 8.55%
Sector: Utility
Country: Italy
10.Company:Telenor ASA (TELNY)
Current Dividend Yield: 4.24%
Sector: Telecom
Country: Norway
Note: Dividend yields noted are as of September 14, 2012
Disclosure: Long ENI, BCA