The manufacturing sector was decimated with the past few decades due to globalization. Millions of workers lost their jobs as companies moved their factories overseas where labor cheap and regulations lax, especially in emerging countries. However in the past few years labor costs in countries such as China, India and others have soared reducing the labor cost advantage those countries had when relative to the U.S. Labor costs in the manufacturing sector in the U.S. has steadily fallen in the last few decades and high unemployment rate since the credit crisis has made labor even cheaper. Hence many companies are actually building factories in the U.S. and some are even moving their overseas factories back to the U.S. in a new trend known as "re-shoring".
In February of this year Caterpillar shut down its plant in London, Ontario and moved it to Muncie, Indiana where labor costs are cheaper. From the article Caterpillar Closes Plant in Canada After Lockout in The Wall Street Journal:
MUNCIE, Ind.—Bulldozing its way through a high-profile dispute over wages, Caterpillar Inc. CAT -0.52% said Friday it will close a 62-year-old plant in London, Ontario, that makes railroad locomotives, eliminating about 450 manufacturing jobs that mostly paid twice the rate of a U.S. counterpart.

Caterpillar's decision, ending a standoff with locked-out workers huddled around barrels of burning scrap wood outside the London factory gates, may benefit another downtrodden manufacturing city: Muncie, Ind., where Caterpillar last year opened a locomotive plant and where it is trying to fill jobs at about half the pay workers in Ontario received. At a job fair in Muncie Saturday, Caterpillar will be offering jobs at that plant at wages ranging from $12 to $18.50 per hour. Wages for most workers at the Ontario plant are about 35 Canadian dollars an hour (US$35.03).
In addition to lower labor costs, companies are also benefiting from lavish incentives offered by governments to lure jobs and stimulate growth. The article added:
When Caterpillar agreed to revitalize a former Westinghouse electrical-equipment plant in Muncie that had been idle for 12 years, state and city officials provided incentives that could reach about $28 million, assuming Caterpillar meets its goals for adding as many as 650 jobs. Those incentives include tax credits, infrastructure improvements and worker-training funds.

If Caterpillar increases its investment in Muncie to replace the Ontario capacity, Muncie officials said it may qualify for further incentives. "We're going to do all we can to help them," said Jay Julian, chief executive officer of the Muncie-Delaware County Economic Development Alliance.
From an article in The Vancouver Sun discussing the decline of manufacturing in Canada and the resurgence of manufacturing in the U.S:
Canada has suffered a noticeable decline in manufacturing jobs since the 2008 recession, with employment in the sector falling to 1.76 million last year, down from more than 2 million in 2007. Today, manufacturing output in Ontario is one-fifth below the peak recorded in 2000, although it's growing again after a sharp contraction in 2009. Even though manufacturing in Canada is in the midst of a cyclical rebound, as measured by both shipments and output, job gains have been few and far between.
The reason why Canada has become uncompetitive and Caterpillar chose to close the plant in Ontario is shown in the following graph: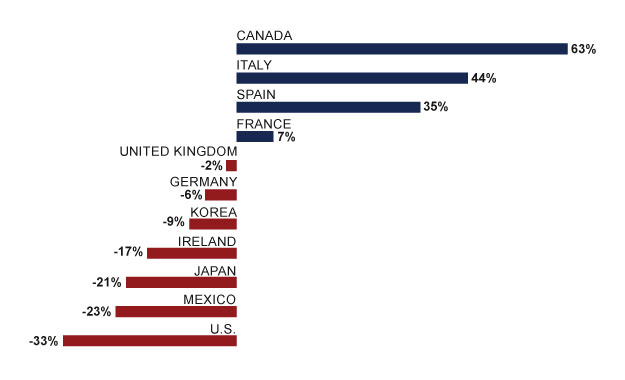 Source: Is the U.S. economy regaining its luster?, Fidelity Viewpoints
Dirk Hofschire, Senior Vice President of Asset Allocation Research at Fidelity Investments noted in the latest edition of Fidelity Viewpoints:
A second development is we have had greatly improved U.S. competitiveness in the manufacturing sector. This is an area where some of the low energy costs for manufacturers is helping. The real story is that, over the past decade we've had limited wage gains, really strong gains in worker productivity, and the dollar has declined in value. All of these things together have led to a large decline in unit labor costs here in the U.S. As a result, there's a big increase in our competitiveness in this sector, relative to other countries around the world. We're starting to see evidence of companies making more manufacturing investments here in the United States, and even some examples of companies bringing production back onshore.
In summary, though the high tech sector, green energy industry and others have been hyped to be the next job engines it may finally be the good old manufacturing sector that helps the economy get back on track. Regions such as the Greenville/Spartanburg corridor in South Carolina are already emerging as the Mecca of manufacturing in the U.S.