Most investors have stayed away from European banks since the credit crisis and the subsequent sovereign debt crises for good reason. Though European bank stocks rebounded last year and early this year, in the past few weeks they have fallen heavily due to the bailouts in Spain, political and fiscal issues in Greece and Italy and more recently France turning more socialist than before.
However research reports from HSBC and Nomura suggests that there could be cautious optimism towards European bank stocks according to an article in Euromoney. HSBC notes that international investors are becoming less negative towards Spain and Italy since they are underweight financials in those countries compared to all other regions. Within financials, they observe an increase in holdings of banks.
Click to enlarge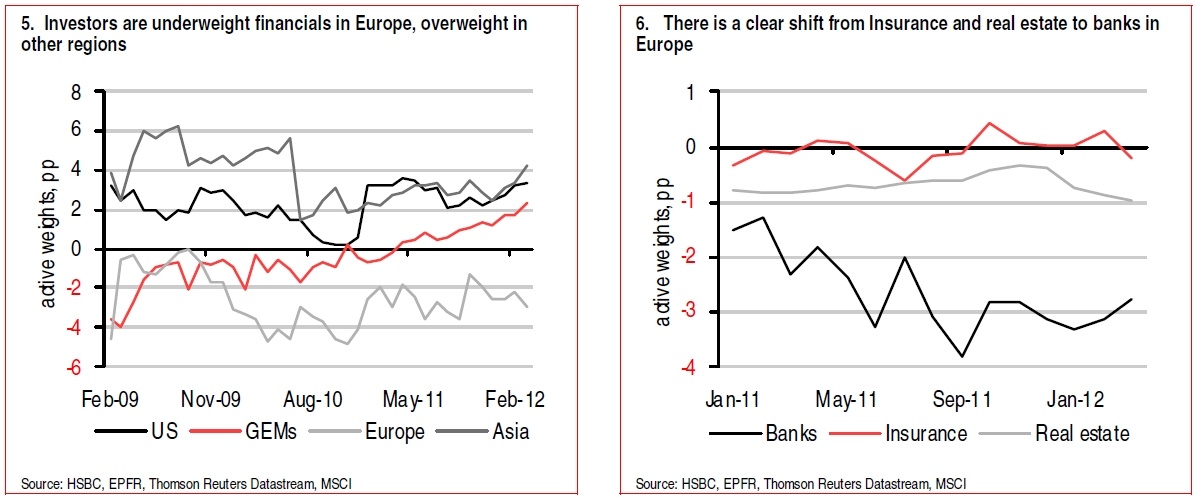 Source: Are European banks poised for a rebound?, Euromoney
Quoting the Nomura research report the article noted "while lending from banks remains weak, this is due to a lack of credit demand from solvent borrowers that want leverage rather than banks' inability to supply." A survey of loan officers also showed that loan demand from corporations are expected to increase in the next two quarters while households will continue to reduce credit demand though at a lower rate.
From an investment perspective, among the exchange-listed European banks traded on the US markets, National Bank of Greece (NBG), Banco Santander (SAN), Banco Bilbao Vizcaya Argentaria (BBVA) and Credit Suisse (CS) are in the negative territory so far this year.
Investors may want to consider UK's Barclays(BCS), HSBC (HBC) and Germany's Deutsche Bank (DB). HSBC especially has a strong global footprint and is in a relatively better position than other British banks. Of the OTC-traded banks, Sweden's Nordea Bank AB (NRBAY), Svenska Handelsbanken AB (SVNLY), Swedbank (SWDBY) are also worth looking into at current prices.
Disclosure: Long SWDBY