Asian banks for the most part remained relatively unscathed during the Global Financial Crisis of 2008. However that situation appears to be changing. According to a recent report in The Wall Street Journal, "Despite relatively strong economic growth, risks for banks are growing in Asia. Among the risks are a big increase in lending in recent years, rising individual debt levels in the region, headwinds from the European debt crisis and a slowdown in China."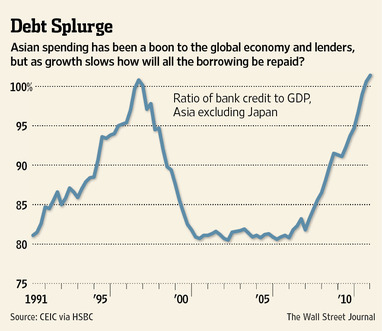 Source: Warning Signs Rise for Big Lenders in Asia, The Wall Street Journal
The article also noted:
To be sure, Asian banks are adequately capitalized, economic growth remains faster than in the U.S. and Europe, and nonperforming loans are rising from very low levels.

Nonperforming loan ratios are 73% below their long-term average in Asia, with some countries at 1% or lower, according to brokerage CLSA Asia Pacific Markets. CLSA has said it expects nonperforming loans to turn sharply higher this year.
U.S. banks are now stronger than European banks. However Asian banks are in a much better position than both U.S. and European banks. Banks in Asia are highly regulated and follow conservative business practices with very limited exposure to derivatives and high-risk lending. Hence U.S. investors looking to invest in foreign bank stocks can consider some of the Asian banks shown below:
[TABLE=1059]
Singapore's DBS Bank (DBSDY) and United Overseas Bank (UOVEY) appear on the World's 50 Safest Banks ranking by Global Finance magazine and also in the Bloomberg Markets' latest annual ranking of the world's strongest banks.
Disclosure: No Positions