Canadian National Railway (CNI) and Canadian Pacific Railway (CP) are the major railroads in Canada. Activist investor Mr.Bill Ackman of hedge fund Pershing Square Capital Management has initiated a corporate battle to take control of the Canadian Pacific railroad and implement management changes. With a bet of $1.4 billion Mr.Bill currently holds 14.2% of the company. Promising 'a nuclear winter' if his demands are not met, the powerful hedge fund manager Mr.Bill proposed to replace the current Canadian Pacific CEO Mr.Fred Green with the former CEO of CN Mr.Hunter Harrison. This proposal was promptly dismissed by the CP board which is filled with Canada's old-world business elite. However Mr.Bill, an American, considers these individuals to be inept in running the railroad. Hence this could be a long drawn out power struggle between Mr.Bill and the CP board. For more juicy details readers may want to checkout an excellent article titled The story behind the all-out war to control CP published today by The Globe and Mail.
Some of the key metrics of the two railroads are listed below:
[TABLE=1053]
Source: Company websites
Canadian National has a much stronger presence in the U.S. than Canadian Pacific and CN dominates the industrial heartland of eastern Canada.
In terms of long-term equity performance, which is better – CN or CP?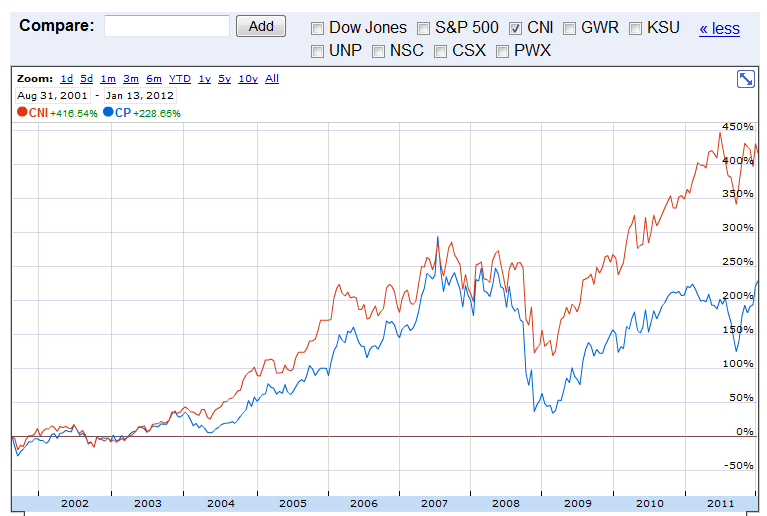 Source: Google Finance
CN easily beat CP in the period shown above. CP's stock performance in the past few years has been poor. This is one reason Mr.Bill Ackman believes it is time for a major shakeup of the company's top management.
Microsoft's Bill Gates is a major shareholder of Canadian National holding more than 46 million shares or 10.04% of the Montreal-based railroad as of April last year.
Related Infographic:
Click to enlarge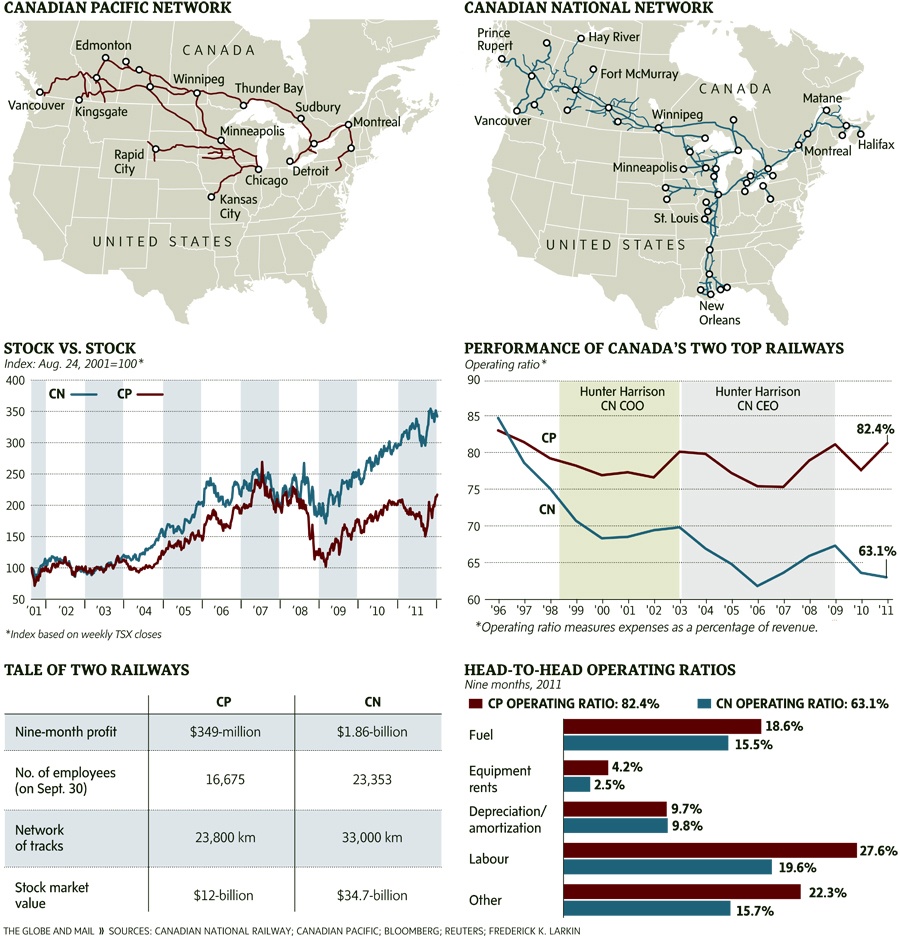 Source: CP's rail reach,  The Globe and Mail
Disclosure: Long CN