European companies generally tend to have higher dividend yields than U.S. companies. For example, currently the dividend yield on the S&P 500 is just 2.15% compared to 3.69% and 4.2% for UK's FTSE 100 and Germany's DAX.
Though European dividend yields are high, the total dividend payouts are still lagging according to a research report by Pierre Lapointe and Alex Bellefleur of Brockhouse Cooper in Canada. In Asia and Europe, total dividends payouts are roughly about 10% above pre-2008 crisis levels compared to Europe where where the figures are still about 14% below pre-2008 levels.
Unlike Asian and North American firms, European companies simply do not have the cash to sustain and grow their dividend payments. From the report:
Click to enlarge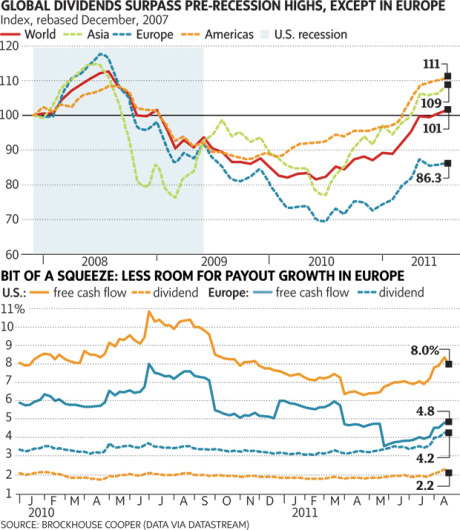 Mr. Lapointe and Mr. Bellefleur noted that the "free cash flow yield" (i.e. annual free cash flow per share as a percentage of share price) on the MSCI Europe stock index is 4.8 per cent, only slightly above the dividend yield of 4.2 per cent.

U.S. companies, on the other hand, have a free cash flow yield of 8 per cent – far above the 2.15-per-cent dividend yield on the S&P 500. "This means U.S. companies have much more room to pay and grow current dividends, while carrying out capital expenditures, than their European counterparts," they wrote.
Source: Do juicy dividends have room to grow? Follow the cash , The Globe and Mail
Ten U.S. stocks from the S&P Dividend Aristocrats Index are listed below with their current dividend yields for further research:
1.Company:Kimberly Clark Corp (KMB)
Current Dividend Yield: 4.11%
Sector:Personal & Household Products
2.Company:Emerson Electric Co (EMR)
Current Dividend Yield: 3.13%
Sector:Scientific & Technical Instruments
3.Company: Sherwin-Williams Co (SHW)
Current Dividend Yield: 2.01%
Sector:Chemical Manufacturing
4.Company:Stanley Black and Decker Inc (SWK)
Current Dividend Yield: 2.82%
Sector:Appliance & Tool
5.Company:Exxon Mobil Corp (XOM)
Current Dividend Yield: 2.61%
Sector:Oil & Gas – Integrated
6.Company:Air Products & Chemicals Inc (APD)
Current Dividend Yield: 2.90%
Sector:Chemical Manufacturing
7.Company:Grainger, W.W. Inc (GWW)
Current Dividend Yield: 1.78%
Sector:Appliance & Tool
8.Company:Becton, Dickinson & Co (BDX)
Current Dividend Yield: 2.09%
Sector:Medical Equipment & Supplies
9.Company:Leggett And Platt Inc (LEG)
Current Dividend Yield: 5.21%
Sector:Furniture & Fixtures
10.Company:Clorox Co (CLX)
Current Dividend Yield: 3.50%
Sector:Personal & Household Products
Note: Dividend yields noted above are as of September 2, 2011
Related ETFs:
iShares Dow Jones U.S. Select Dividend ETF (DVY)
Disclosure: No positions