The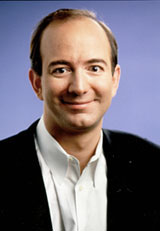 Internet retailer Amazon is one of the survivors of the great dot-com bubble of the 1990s. Unlike other retail companies like pets.com that disappeared when the bubble burst, Amazon not only survived but has thrived ever since. As the retail industry is highly competitive and has one of the lowest profits margins, it takes extraordinary effort and resources for a company to be successful. In this perspective, one has to appreciate the skills and perseverance of Mr.Jeff Bezos who started Amazon as a site selling for books back in 1994.
Euromonitor published a report recently on Amazon's growth and analyzed the company's future prospects. The following are some of the key takeaways from the report:
Click to enlarge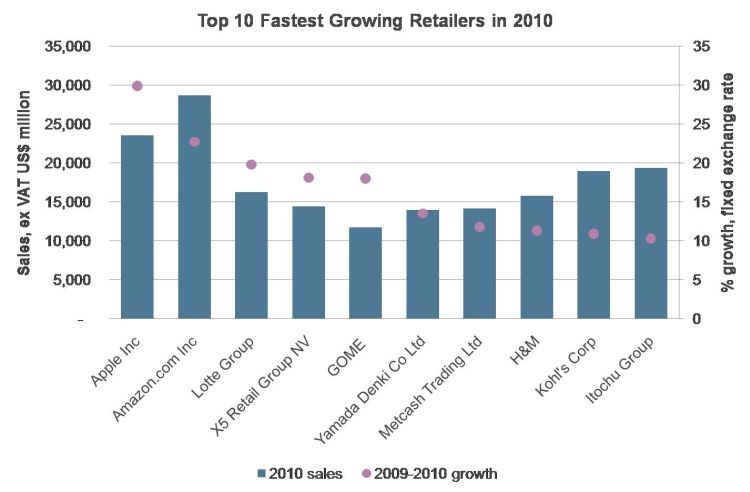 Source: Euromonitor International
Amazon benefited strongly as direct competitors such as WalMart(WMT) and Tesco (TSCDY), pure-plays like Netflix (NFLX) and eBay(EBAY) failed to beat Amazon in the online retail business.
By acquiring Zappos, Quidsi, BuyVIP, LivingSocial and Lovefilm, Amazon has expanded its product offerings and the introduction of product-specific landing pages is extending the breadth of range.
The introduction of a grocery service in Germany and the UK in mid-2010 should benefit growth in those markets as consumers switch to Amazon from traditional high-cost retailers.
Amazon Prime, in which consumers pay an upfront fee (US$75 in the US, £49 in the UK) for free shipping and other deals, has been a big hit in the US and the UK creating loyal customers and higher sales per visit.
The launch of the Kindle 3 in 2010 made Amazon a competitor to Apple and other players in the e-reader market.
Amazon has been innovative with the introduction of high-margin private label products under many lines such as Pinzon (kitchen gadgets), AmazonBasics (electronics accessories), Denali (tools), Pike Street (bath and home products) and Strathwood (outdoor furniture).
With the November 2010 launch of a country-specific site for Italy, Amazon's international operations now include Japan, the UK, France, Germany and China. Amazon plans to expand into the Spanish market this year.
Euronomitor noted that Amazon is taking the right steps to increase sales growth in the future. Increasing product offerings, internationalization, a growing loyal customer base, etc. should help the company in the medium to long term. However in the short to medium term Amazon is likely to face increased competition from other retailers.
Established retail giants like WalMarts and Tesco are refocusing their web sales strategies and plan to invest more to compete against Amazon. But since Amazon's technology is already much better than the competition, it can continue to stay ahead of the game by further upgrading technology and offering a better experience for customers.
Disclosure: No positions