Baron Phillipe Rothschild: "The time to buy is when there's blood in the streets."
Warren Buffet: "Be fearful when others are greedy and greedy when others are fearful."
Extreme turmoil in the market generally excellent creates buying opportunities. Smart investors tend to take advantage of such situations to add high-quality stocks at rock bottom prices.
The following roadmap shows the relationship between emotions and risk/return with respect to investment:
Click to enlarge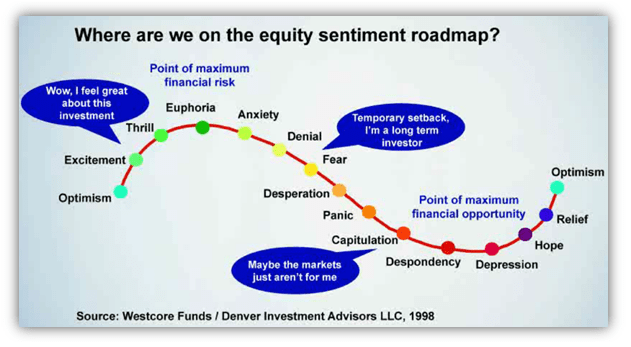 Source: Why turmoil creates opportunities, Trustnet UK
From the Trustnet article:
Chris Spear, managing director of Spear Financial in UK says that investors who remain emotionally removed will stand the best chance of making money.

"It is ridiculously simple. Whatever your emotions are saying, do the opposite," he explained. "If you think things are really bad in the markets, then it may well be a good time to invest."
An opportunity of a lifetime presented itself to investors in March 2009. The S&P 500 hit a bear-market low of 676 on March 9 with an intra-day low of 666. By mid February of this year, the S&P 500 closed at 1,332 – virtually doubling from the March, 2009 lows. Some foreign stocks more than doubled during the same period. For example, Banco Santander (SAN) of Chile reached as low as $30.56 in March 2009 only to rebound to about $100 by September 2010. Yesterday it closed at $81.58.  The main point here is that investors who scooped up stocks on the cheap in March 2009 are sitting on strong gains despite the recent volatility in the markets in the past couple of months.
Disclosure: No Positions