Global stocks fell heavily across the board yesterday.Panic selling in the markets usually presents buying opportunities. Investors looking to deploy capital during uncertain times can buy high-quality dividend-paying stocks at cheap prices.
Some of the reasons for investing in dividend-paying stocks are listed below:
90% of the U.S. equity returns in the past century has been delivered by dividends and dividend growth.
Dividend payers usually have superior returns than non-payers as shown in the chart below: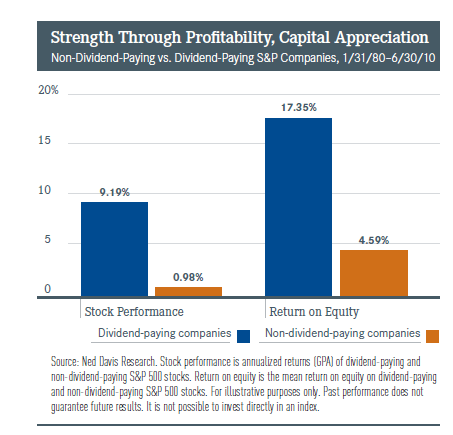 Since 1970, more than 80% of European returns have come from a combination of yield and real dividend growth.
Over the past 30 years, well over 90% of UK, Germany and France returns have come from dividends and dividend growth according to research by Societe Generale.
Globally, high-dividend-yield and high-dividend-growth stocks have consistently outperformed the broad market while also handily outpacing simple high yield stocks as shown in the graph below: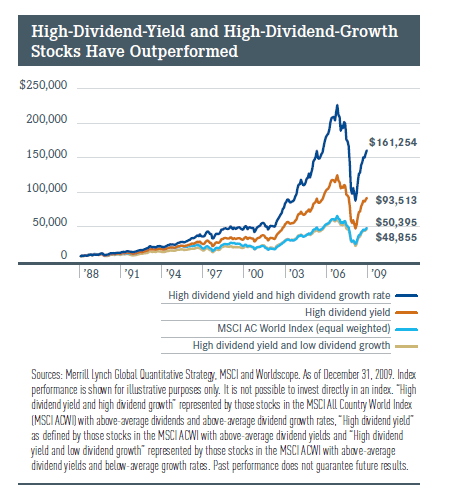 Foreign dividend stocks have consistently higher yields than U.S. stocks.
In low-growth environments such as the one we are in now, high-yielding stocks have traditionally outperformed.
Source: Why Dividends Make A Difference, Blackrock
Ten randomly selected foreign stocks yielding more than 5% dividends are listed below for further research:
1.Company:Empresa Nacional de Electricidad SA (EOC)
Current Dividend Yield: 6.75%
Sector:Electric Utilities
Country: Chile
2.Company:National Grid PLC (NGG)
Current Dividend Yield: 6.01%
Sector:Electric Utilities
Country: UK
3.Company:Cpfl Energia SA (CPL)
Current Dividend Yield: 5.66%
Sector:Electric Utilities
Country: Brazil
4.Company:Telstra Corp Ltd (TLSYY)
Current Dividend Yield: 8.87%
Sector: Telecom
Country: Australia
5.Company:Aviva PLC (AV)
Current Dividend Yield: 7.22%
Sector: Life Insurance
Country: UK
6.Company:City Telecom (HK) Ltd (CTEL)
Current Dividend Yield: 7.21%
Sector: Telecom
Country: Hong Kong
7.Company: Philippine Long Distance Telephone Co(PHI)
Current Dividend Yield: 6.49%
Sector: Telecom
Country: Philippines
8.Company:Allianz Se (AZSEY)
Current Dividend Yield: 5.72%
Sector: Life Insurance
Country:Germany
9.Company:Stora Enso Oyj (SEOAY)
Current Dividend Yield: 5.17%
Sector:Paper & Paper products
Country: Finland
10.Company:Gdf Suez SA (GDFZY)
Current Dividend Yield: 6.99%
Sector: Electric Utilities
Country: France
Note: Dividend yields noted above are as of market close August 8, 2011
Disclosure: No Positions