The commodity markets saw a boom in the past few years due to soaring demand for various commodities in the emerging countries. Demand for natural resources such as coal, iron, oil and gas have been especially high from China, India, etc.
Many people have the misconception that only emerging and frontier markets are rich in commodities. That is not true since some developed countries also are rich in natural resources. These countries  supply natural resources to emerging and developed markets.
Some of the top resource-rich emerging and developed countries and are listed below with key additional details:
Click to enlarge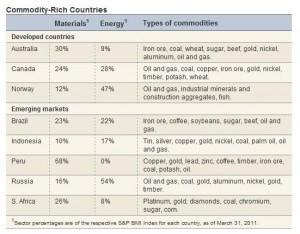 Source: Are Commodity-Rich Countries Worth a Look?
One way to profit from the economic growth of emerging markets is to invest in countries that sell the commodities to these markets. For example, Australia is a major supplier of coal, natural gas, iron ore to China. Similarly Brazil is a also major supplier to China and other emerging markets.
Like Australia, Canada and Norway are also unique since they are developed countries with huge natural resources. Canada is the largest supplier of crude oil to the U.S. and the Canadian economy is heavily dependent on the U.S. economy.
As the emerging markets noted above are highly commodity-based export-driven economies, any correction in commodity prices will have an adverse effect on them. Hence investors who looking to reduce risk but at the same time want to gain exposure to emerging markets can invest in companies in the developed countries noted above.
Related ETFs:
iShares MSCI Canada Index (EWC)
iShares MSCI Australia Index (EWA)
Global-X Norway ETF (NORW)
iShares MSCI All Peru Capped Index Fund (EPU)
iShares MSCI Indonesia Investable Market Index ETF (EIDO)
iShares MSCI Brazil Index (EWZ)
Market Vectors® Russia ETF (RSX)
iShares MSCI South Africa Index Fund (EZA)
Disclosure: No Positions