The personal household saving rate in Germany is one of the highest among developed countries. German households put aside a monthly average of Euro 190 per inhabitant in the first half of 2010, according to a report by De Statis.The following chart shows the comparison of personal saving rate in Germany against a select few OECD countries: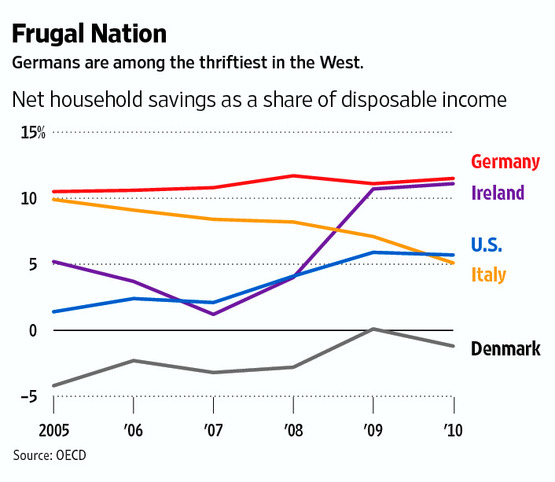 Source: Germans, Prizing Virtues of Saving, Find Euro Bailouts Hard to Swallow, The Wall Street Journal
From the journal article:
Germans' deep-seated economic caution has roots in the ruinous wars and inflation of the last century. Many of today's Germans are as frugal as ever, on average saving 11.5% of their incomes in 2010, according to the Organization for Economic Cooperation and Development. That compares with a savings rate of 5.7% in the U.S. last year.

In Ireland, one of the euro-zone countries that is getting a bailout, the average savings rate last year was 11.1%, near that of Germany—but the rate only rose after the shock of the global financial crisis, and follows years of much lower saving. Meanwhile, in Greece, residents on average spent 12% more than they earned in 2008, the latest year for which data is available from the OECD.
Despite having a high savings rate and one of the large equity markets in the world, Germans do not invest heavily in stocks. In fact, the majority of Germans put most of the money saved in bank deposits and to some extent in life insurance products.