Before the credit crisis struck Latin American markets were the hottest destination for foreign investors. However in recent months Latin American countries such as Brazil, Argentina, Mexico, etc. have been lagging other emerging markets in terms of equity market performance. The economies of Latin American countries were relatively unscathed by the recent financial crisis and rebounded strongly from the depth of the crisis as shown in the graphic below: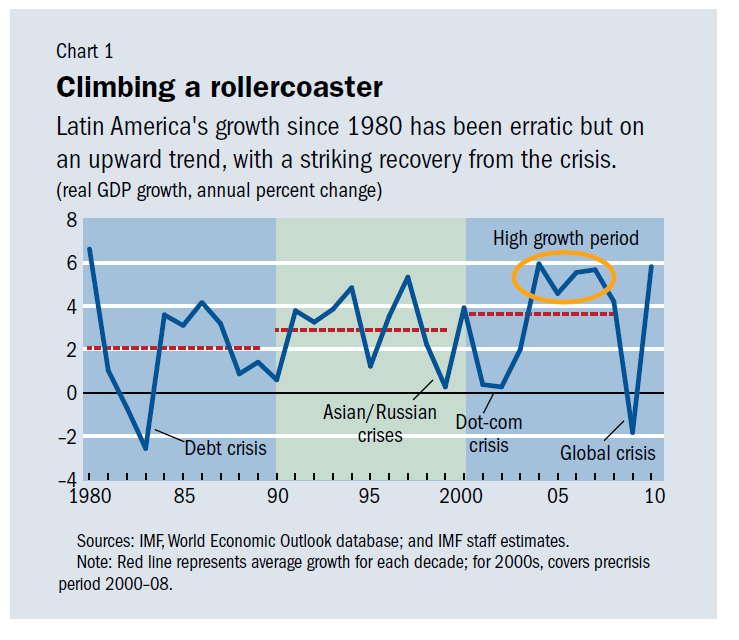 Source: Finance & Development, March 2011, IMF
In the past, Latin America has gone thru many boom and busts. But overall the economic growth remains intact and is heading in the right direction. In recent years, the soaring global demand for commodities and low interest rates worldwide have tremendously helped the export-driven countries such as Brazil. As a result of the growing exports and rising domestic consumer market, the long-term potential for the region's economic success is promising. Some of the reasons for this optimism include improved government finances, reduced external debt, higher international reserves and strengthened financial regulation in the past few years. In addition, income distribution has improved and poverty rates have fallen across the region leading to the creation of millions of new middle-class consumers.
Ten stock picks to profit from Latin America's surging growth:
1.Company: Ecopetrol (EC)
Current Dividend Yield: 2.90%
Sector: Oil
Country: Colombia
2.Company: Vale SA (VALE)
Current Dividend Yield: N/A
Sector: Mining
Country: Brazil
3.Company: Itau Unibanco (ITUB)
Current Dividend Yield: 0.40%
Sector: Banking
Country: Brazil
4.Company: Pampa Anergia (PAM)
Current Dividend Yield: 0.53%
Sector: Electric Utility
Country: Argentina
5.Company: Enersis (ENI)
Current Dividend Yield: 14.18%
Sector: Electric Utility
Country: Chile
6.Company: Compania de Minas Buenaventura (BVN)
Current Dividend Yield: 0.74%
Sector: Mining
Country: Peru
7.Company: Coca-Cola Femsa (KOF)
Current Dividend Yield: 1.48%
Sector: Beverages
Country: Mexico
8.Company: Banco Santander Chile (SAN)
Current Dividend Yield: 3.40%
Sector: Banking
Country: Chile
9.Company: Creditcorp (BAP)
Current Dividend Yield: 1.82%
Sector: Banking
Country: Peru
10.Company: Gafisa (GFA)
Current Dividend Yield: N/A
Sector: Household Goods and Home Construction
Country: Brazil
Disclosure: Long ITUB