Poland is one of the top performing markets among the emerging markets in Europe. Since the March-lows of 2009, the WIG index, the main index on the Warsaw Stock Exchange, has soared to close at 46,874 on Friday. The all-time high is about 67,500 which was reached in mid 2007.
Poland has a highly-skilled and educated workforce. The country is host to some of the major German and other European manufacturing firms. In fact, European powerhouse Germany is the largest trading partner of Poland. In addition to the manufacturing sector,  Poland has a competitive edge in the service sector too. Proximity to the EU, a strong domestic consumer market, cheap labor are some of the major attractions for foreign firms investing in the country. In some sectors, Poland is a better alternative to India and China.
The Polish economy is projected to grow by more than double that of the estimated forecast GDP for Euro-zone this year according to a recent report in the Der Speigel. From the article: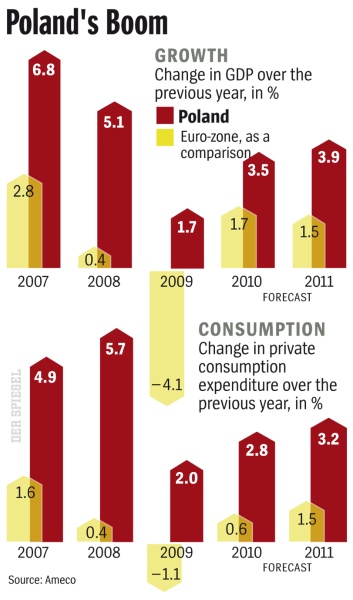 The country has benefited from its accession to the European Union and globalization more than almost any other. Twenty years ago, the deeply Catholic country was largely agricultural and considered backward and provincial, a millstone around Europe's neck. Since then, however, Poland has experienced an almost nonstop boom.

Even when the rest of Europe was suffering through a recession in 2009, Poland's economy grew by 1.7 percent. Thanks to its accession to the EU in 2004, unemployment fell from more than 20 percent to about 8 percent today.

The boom has been most evident in the cities. Warsaw and Poznan, for example, have full employment. According to surveys, Poles are among Europe's most optimistic people. They have never had it as good as they do today.

Warsaw is also at peace with itself politically. Prime Minister Donald Tusk runs the government with a stabile majority, while nationalist extremists on the left and right are no longer represented in Poland's parliament, the Sejm. Poland is now on excellent terms with Berlin and has toned down its rhetoric toward Moscow; the country is also no longer seen as an unpredictable obstructionist in Brussels. Almost a quarter century after the collapse of the Soviet bloc, the country of 38 million has become a respected regional power.
How to invest in Poland?
None of the Polish firms are listed on the organized exchanges in the U.S. The majority of the Polish ADRs that trade on the OTC markets are unsponsored. Hence a simple way to gain exposure to the Poland for US-based investors is via the Market Vectors Poland ETF (PLND). This ETF has a small asset base of about $64.0 million. More than half of the fund's assets are in the top 10 holdings. Financials account for 40% of the portfolio.