Crude oil prices rallied today reaching $100 a barrel in New York before settling the day for April delivery at $98.10. Oil prices have steadily increased since the political turmoil in the Middle East started a few weeks ago. "Oil prices may surge to $220 a barrel if political unrest in North Africa halts exports from Libya and Algeria." according to Nomura Holdings quoted by Bloomberg. As Libya's regime fights to quash the rebellion, oil prices may continue to rise further.Though media reports talk of oil exports disruption in Algeria, it seems unlikely. The Algerian government has not only banned protests but has also reduced the prices of essential food items.
The following are some interesting facts about the oil industry of Libya:
Libya has the largest proven oil reserves in Africa followed by Nigeria and Algeria.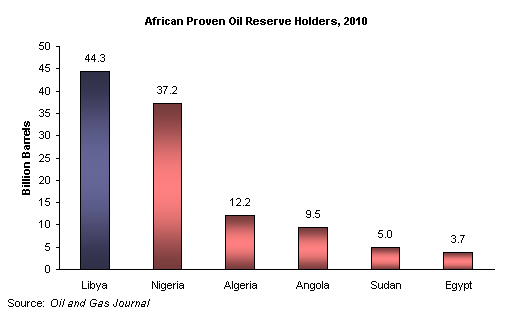 Despite the huge reserves Libya oil production has been on the decline since the 1960s.
In 2009, crude oil production was 1.65 million barrels per day.
Libya is a net exporter of oil with the vast majority of exports going to Italy, Germany, France and Spain.
Source: U.S. EIA , FT
Comparison of production capacity to actual daily oil production by OPEC countries: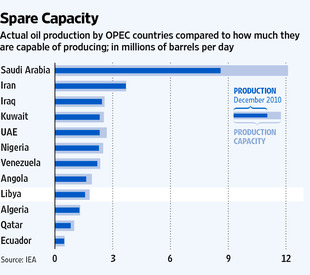 Source: The Wall Street Journal
Update: Why the Disruption of Libyan Oil Has Led to a Price Spike
Libya produces less than 2 percent of the world's oil and exports little to the United States. But the quality of its reserves magnifies its importance, causing a spike in both American and European oil price benchmarks despite assurances from Saudi Arabia that it was ready to pump more oil to calm markets.

In New York West Texas Intermediate Benchmark crude for April delivery briefly touched $100 on Tuesday for the first time in more than two years, before easing moderately. In London, Brent crude for April delivery rose $5.47 to $111.25 a barrel.

Libya's sweet crude cannot be easily replaced for the production of gasoline, diesel and jet fuel, particularly by the many European and Asian refineries that are not equipped to refine heavier grades of oil. Saudi Arabia may have more than 4 million barrels of spare capacity, but it includes heavier grades of crude that are higher in sulfur content and more expensive to refine.

"Quality matters more than quantity," Larry Goldstein, a director of the Energy Policy Research Foundation, an organization partly financed by the oil industry.
Source: The New York Times