Emerging markets are lagging developed markets this year. The S&P 500 is up 6.8% YTD. The YTD returns of the major indices of some of the other developed markets are noted below:
Canada – 5.1%
Germany – 7.4%
Italy – 14.3%
Switzerland – 4.4%
Australia – 4.0%
On the other hand, the majority of the emerging markets have performed poorly this year after strong runs in the previous years. The YTD returns of the major indices of some of the emerging markets are shown below:
India – (11.2%)
China – 3.3%
Chile – (9.8%)
Brazil – (1.8%)
Mexico – (2.7%)
India is the worst performer among emerging markets with double digit losses.One of the reasons for the fall of emerging markets is the soaring inflation in those countries.
An article in The Wall Street Journal notes that emerging markets are getting cheap after the recent selloff. Some of the reasons attributed for this include the projected high GDP growth rates in these countries relative to the developed world and valuation. Since the financial crisis, the P/E ratios of emerging markets are on an average 16% lower than that of developed markets. Hence investors may want to consider adding high-quality EM stocks to their portfolios at current levels.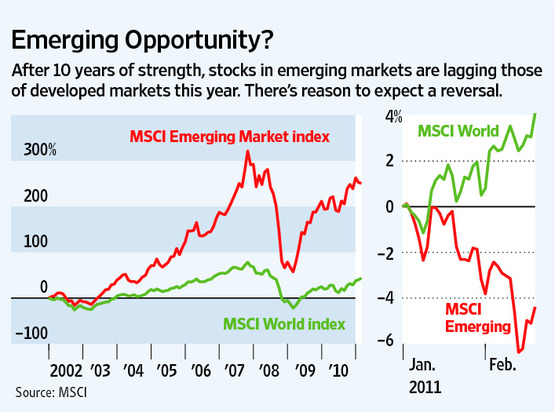 Source: The Wall Street Journal
Ten emerging market equities to consider for further analysis are listed below:
1.Company: HDFC Bank (HDB)
Sector: Banking
YTD Change: (8.26%)
Country: India
2.Company: Cemex (CX)
Sector: Cement Manufacturing
YTD Change: (9.52%)
Country: Mexico
3.Company: Braskem (BAK)
Sector: Chemicals
YTD Change: (4.06%)
Country: Brazil
4.Company: Vivo (VIV)
Sector: Mobile Telecom
YTD Change: 3.10%
Country: Brazil
5.Company: Banco Santander Chile (SAN)
Sector: Banking
YTD Change: (9.80%)
Country: Chile
6.Company: Taiwan Semiconductor Manufacturing (TSM)
Sector: Semiconductors
YTD Change: 2.15%
Country: Taiwan
7.Company: China Petroleum & Chemical (SNP)
Sector: Oil
YTD Change: 14.32%
Country: China
8.Company: CPFL Energia (CPL)
Sector: Electric Utility
YTD Change: (1.25%)
Country: Brazil
9.Company: Wimm-Bill-Dann Foods (WBD)
Sector: Food Producers
YTD Change: (1.61%)
Country: Russia
10.Company: China Eastern Airlines (CEA)
Sector: Airlines
YTD Change: (7.67%)
Country: China
Note: The YTD return is as of Feb 18, 2011
Related ETFs:
iShares MSCI Emerging Markets Index Fund (EEM)
Vanguard Emerging Markets ETF (VWO)
Disclosure: No Positions