The price of silver closed at over $30 per troy ounce on Friday up from $16.822 at the beginning of 2010. From a recent Journal story on silver:
Among the four major precious metals—the others being gold, platinum and palladium—silver is up 74% this year, on track to be the second-best performing commodity after palladium, which is up 86%. Gold, by contrast, is up 26% and copper just under 28%.

Prices are rising despite oversupply and a lackluster recovery in industrial demand. Many analysts expected those factors would keep a lid on prices in 2010. What they didn't expect was an overwhelming flow of money into the market from investors eager to ride a commodities rally.

Silver closed at an all-time high in January 1980 at $48.70 an ounce, or $129.32 adjusted for inflation.
The Top Silver Producers in 2009: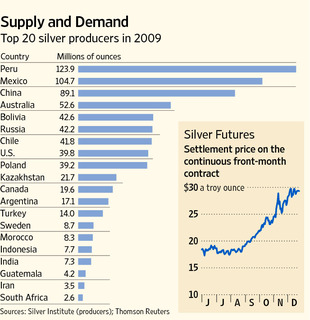 Source: The Wall Street Journal
The Top 20 Silver Producing companies in 2009 are listed below:
[TABLE=859]
Source: The Silver Institute
ETF: iShares Silver Trust (SLV)

Disclosure: No Positions