I have written many times before that most U.S. investors are underweight in their exposure to foreign markets. Despite the stagnant economy at home and tremendous growth in foreign markets, Americans still cling to the idea that U.S. stocks are somehow safer and better than international stocks. They can easily earn higher returns going overseas. For example, the S&P 500 is up 11.6% YTD. But Canada, Mexico, Germany, Sweden and Israel are up by 13.8%, 18.7%, 18.5%, 23.3% and 14.0% respectively.
It appears that more Americans are starting to discover investment opportunities outside of the U.S. An article in The New York Times notes that for the fourth consecutive year Americans withdrew money from mutual funds that primarily invest in domestic stocks. But they have put more money into funds that invest in foreign stocks and also hybrid funds for two years in a row.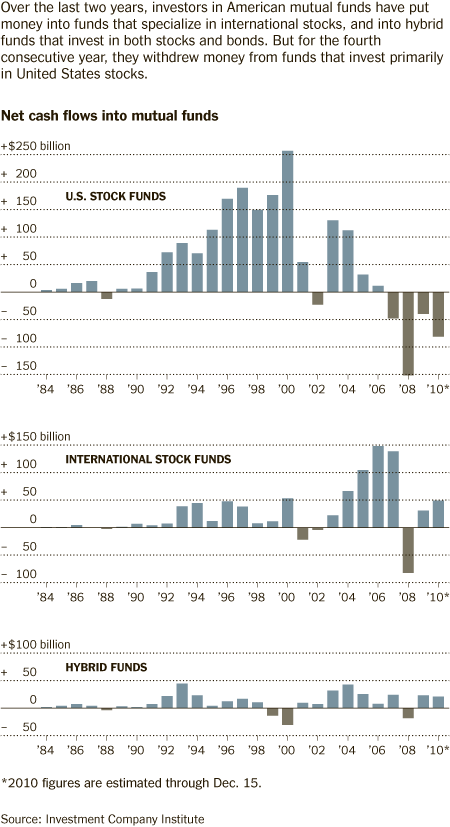 From the article:
THE love affair of American investors with the stock market appears to have ended.

The year now ending will be the fourth consecutive year in which mutual funds that invest primarily in American stocks experienced net outflows of funds, meaning that investors as a group withdrew more money than they put in.

That has happened even though the stock market has flourished over the last two years as it bounced back from lows reached in the spring of 2009 amid worries that the recession at the time would turn into Great Depression II.

The Standard & Poor's index of 500 stocks had a total return of 26 percent in 2009, assuming reinvestment of dividends, and is on pace to post another double-digit gain this year. If current prices hold, they will be the best back-to-back years since 1998 and 1999.

The accompanying charts show that investors took out $81 billion from such funds so far this year, significantly more than they took out in 2009 but well below the withdrawals of more than $150 billion in 2008, the year that Lehman Brothers failed and the credit crisis blossomed.

The withdrawals this year were partly offset by money flowing into foreign stock funds and hybrid funds, which invest in both stocks and bonds. Investors seem willing to trust in overseas markets more than in the American one, and a growing number are choosing so-called target-date funds, in which fund companies promise to choose the right mix of stocks and bonds depending upon when an investor expects to retire.
Source: The New York Times
The change in the attitude of U.S. investors towards foreign stocks is good. Since the U.S. is no longer the engine that drives the global economy it is about time that Americans take advantage of growth occurring elsewhere.
Related ETFs:
iShares MSCI Emerging Markets Indx (EEM)
Vanguard Emerging Markets ETF (VWO)
SPDR S&P 500 ETF (SPY)
SPDR STOXX Europe 50 ETF (FEU)
Disclosure: No Positions