The chart below shows the weightings of different emerging markets in the MSCI Emerging Markets Index in 2000, 2005 and 2010 (as of the end of October):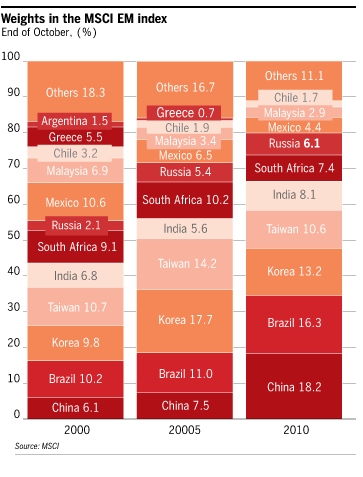 Source: FT BeyondBRICs blog
Mexico and Taiwan had the most weightage in the index a decade ago. Now China represents the largest weightage followed by Brazil. China and Brazil have seen their representations increase dramatically since 2000. Despite the strong growth experienced by India in the last 10 years, India's weighting in the index has moved very little.
Today the emerging markets of China, Brazil, Taiwan and South Korea account for 58.3% of this index. So one of the disadvantages of this index is that it is heavily concentrated on just four countries.
Two ETFs that track the MSCI Emerging Markets Index are:
Vanguard Emerging Markets Stock ETF (VWO)
iShares MSCI Emerging Markets Index Fund (EEM)
Financials and materials are the largest two sectors in these ETFs. In 2009, government stimulus in emerging countries helped these sectors grow tremendously. The MSCI EM index rose by about 75%Â  last year after falling more than 50% in 2008. So far VWO and EEM are up by about 15% this year.
Disclosure: No positions