Gold prices have continued to rise since the July low of $1,160 an ounce. After the Fed's meeting on Thursday, prices rose sharply and continued to go even higher on Friday and closed at $1,393.21. A Reuters article says that gold prices should continue for at least another six months.
From the article:
"Gold's record-breaking climb should continue for at least six months, corresponding to the planned duration of the Federal Reserve's monetary stimulus, according to a Reuters poll conducted on Thursday and Friday.
Two out of three respondents see  gold prices topping out between $1,400 and $1,500 an ounce on an interim basis, with most analysts surveyed expecting prices to peak during the first or second quarter of next year.
Thirteen of the 20 analysts, traders and fund managers polled by Reuters said the price of bullion will remain in an uptrend well into the first half of 2011, after the Fed on Wednesday unleashed a program to buy $600 billion of government bonds in a new round of quantitative easing (QE).
The Fed's QE package has reinforced the argument for holding gold, as it pushes the dollar firmly onto a downward path and raises the risk of inflation.
"QE devaluates the currency, so gold…and almost all commodities will be beneficiaries as people start to switch from financial assets to commodities, something they feel more tangible as the money printing continues," said Standard & Poor's Equities and Metals analyst Leo Larkin."
According to London-based GFMS, the world's foremost precious metals consultancy, specializing in research into the global gold, silver, platinum and palladium markets, the total officially declared gold holdings at the end of 2009 was 30,623 tonnes with the IMF,US and China holding  10%, 27% and 3% respectively.
1) The Top 10 Gold Holders
Click to Enlarge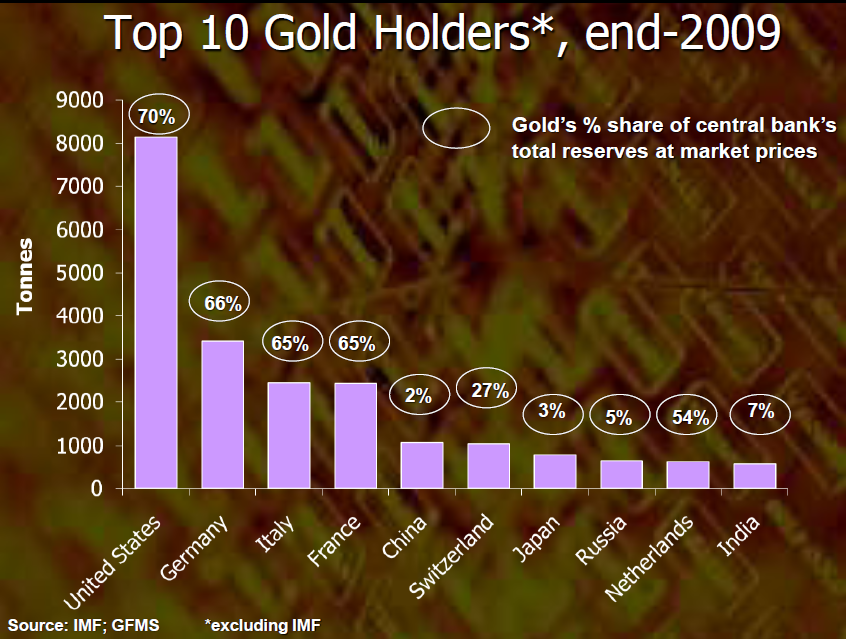 2) The Top 10 Forex Holders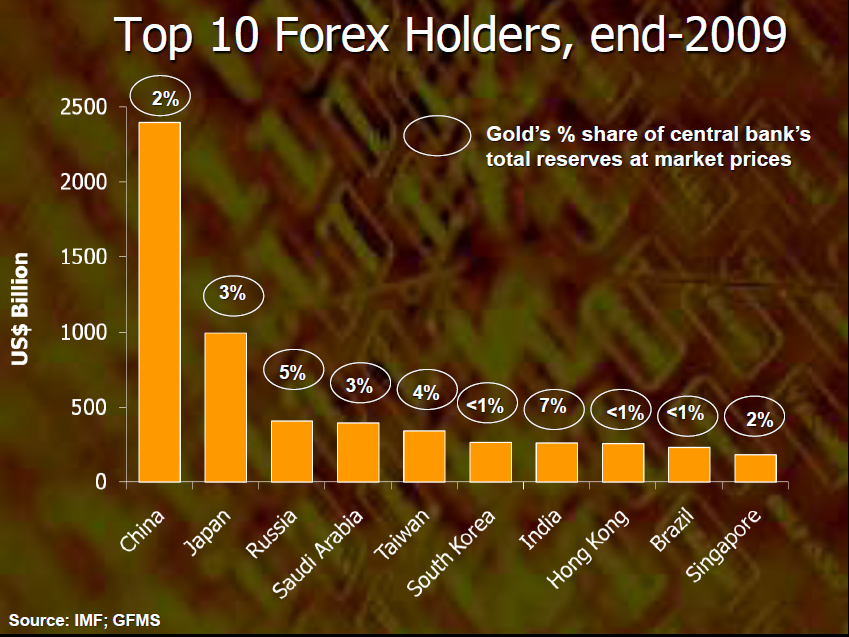 Source:Â  The Official Sector: Gold Rehabilitated?, A presentation by Philip Klapwijk, GFMS Ltd.
Some of the key predictions made by Philip in the presentation are:
"Sovereign debt crisis will not last forever

Alternative investments may be attractive, e.g. Chinese government bonds

Gold price will eventually change direction

US sales unlikely but cannot be entirely ruled out over next decade

Off-market purchases may facilitate 'transfer' of bullion from West to East "