As part of its annual ranking of the top 100 chemical companies in the world, the ICIS Chemical Business magazine published the top 15 global chemical players over the last decade. The graphic below shows the top 15 companies based on turnover:
Click to Enlarge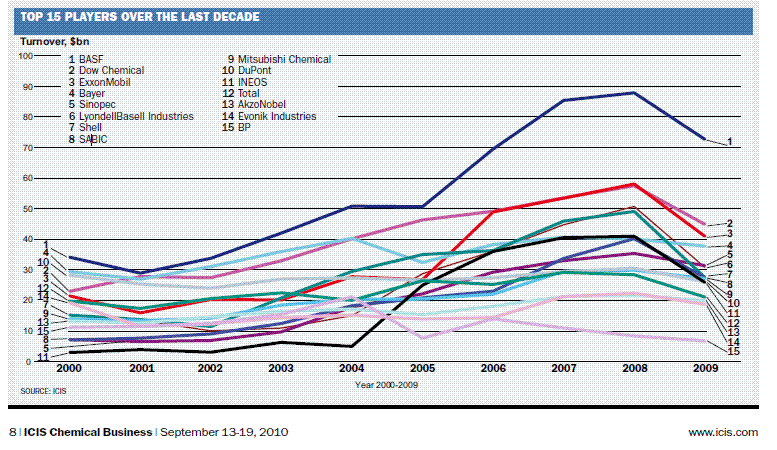 A few observations on this ranking:
The German chemical giant BASF (BASFY) takes the top spot. Sales went from around $29B in 2001 to $87B in 2008. BASF continues to maintain the leadership position in the industry since 2000.With the purchase of  Ciba speciality chemicals and Cognis BASF has the plenty of potential for further growth.
While most of the companies in list held their positions since 2000, the five newcomers are SABIC, Sinopec (SHI), LyondellBasell Industries, INEOS and Sumitomo Chemical.
US chemical maker DuPont(DD) has had a low sales growth in the past 10 years with sales oscillating between $24B and $30B.
The oil majors ExxonMobil(XOM), Shell(RDS.A, RDS.B), BP(BP) and Total (TOT) are in this ranking due to their significant operations in the petrochemical sector.