Recently fellow blogger Random Roger wrote a post an on how to construct a portfolio with one high yielding stock and one ETF for each sector. In the post Roger listed a few of the high yielding stocks current available in the market.
Dividends are an important component of total returns especially in the long-run. The following chart from a study by Credit Suisse shows that 72% of US returns and 92% of UK returns since 1900 have come from dividends:
Click to Enlarge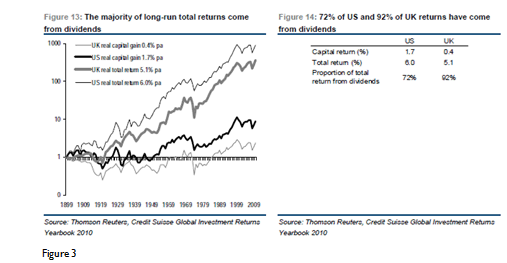 The graph below from  GMO's recent newsletter also shows the importance of dividend yields in the U.S. and overseas markets.
"Exhibit 3 shows the contribution that dividends have made to total returns over various periods. On average, over the very long term, dividends have accounted for some 90% of total return."
"The importance of dividends over the long term isn't just a U.S. phenomenon. The same patterns hold true across a wide variety of global equity markets. For instance, in
Europe, 80% to 100% of the total returns achieved since 1970 have come from dividends (combining yield and real dividend growth)."
According to FT market data, the current yield of the US market is just 2.0% while the yield of the UK market is 3.1%. Other countries such as New Zealand, Australia, Israel, Finland,  etc. have yields exceeding 3%. Hence investors looking for high yields have a wide variety of choice from foreign markets.
Update: From Bloomberg BusinessWeek