U.S. stocks generally have lower dividend yields than foreign stocks. For example, the current yield of the S&P 500 is 2.14%. Compared to this many foreign markets have much higher yields. In 2009, U.S. stocks paid 1.93%. Among the large 20 countries by market capitalization only Russia, India and Korea had lower yields than the US. Australian stocks on the other hand paid 3.73%. Despite taking into consideration factors such as foreign taxes, currency exchange fluctuations, etc. one can earn higher yields going overseas.
Historically the last time the dividend yield of the S&P 500 exceeded 3% was in 1991. Since 1991,the dividend yield of the S&P 500 remained under 2% with the lowest yield of 1.14% reached during the dot com bubble in 1999. The 2008 yield was 3.11% due to fall in share prices and not due to increase in dividend payments.Last year the yield was 2%.
The following chart shows the historical comparison of the Earnings Yield and Dividend Yield of the S&P 500 Index:
Click to Enlarge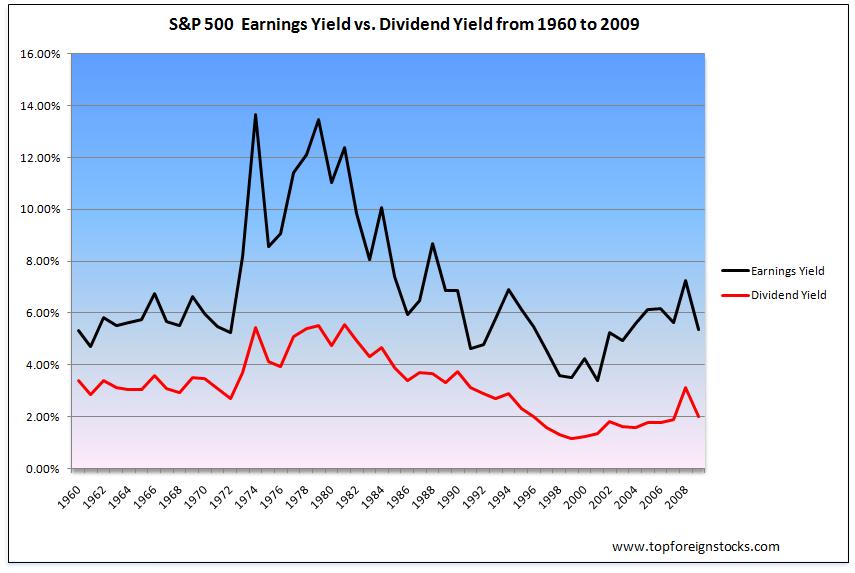 For U.S. investors looking for high yields, foreign stocks that trade on the U.S. markets offer great opportunities to earn dividends in excess of 2%. I ran the stock screener to identify large cap foreign stocks having market caps of over $10BÂ  and dividend yields of over 5%. Thirty two stocks that met the condition are listed below:
[TABLE=503]
Note: Data shown is known to be accurate from sources used. Please do your own research before making any investment decisions.
Canadian companies included in this list are Sun Life Financial Inc(SLF), Telus Corporation (TU) and BCE Inc(BCE).