The U.S. spends the highest amount for healthcare on a per-capita basis than other OECD member countries. Soaring health care costs continue to be a major concern for ordinary Americans.
In Public Health Tab to Hit Milestone, The Wall Street Journal notes that "For the first time, government programs next year will account for more than half of all U.S. health-care spending, federal actuaries predict, as the weak economy sends more people into Medicaid and slows growth of private insurance."
Public spending accounted for 47% of the total health-care spending in 2008. Federal actuaries had predicted earlier that the government spending would cross the 50% mark by 2016. However they now predict that by 2012 public spending would exceed 50%.
Chart: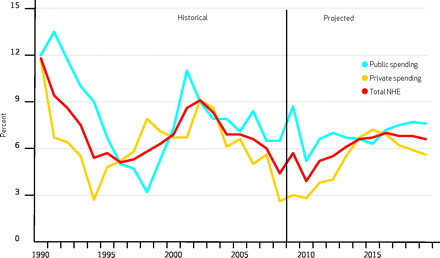 The main reasons for the rise in public health spending are:
The economic recession
Rising unemployment
Changing demographics
Baby-boomers retiring
The U.S. total heath care expenditures was estimated to reach $2.5T in 2009 accounting for 17.3% of GDP. Despite the decline in GDP health-care spending rose by 5.7% last year. Health-care spending is projected to increase to $4.5T in a decade.  As the number of unemployed people increases, they lose their private health-care benefits and some try to enroll into the Medicare and Medicaid. This is causing a rise in enrollments in those public programs.The Medicare program for poor people is projected to see a 5.6% rise in enrollments this year. Last year medicare expenses are estimated to have reached a whopping$507B.
Enrollments in private health-care plans is estimated to decline again this year due to the continued high unemployment levels and expiration of subsidies for the COBRA plan.
Sluggish growth in the job market, stagnant/declining wages in the private sector and rising health-care costs do not bode well for the future of U.S. economy.