The Numbers section of the latest edition of BusinessWeek magazine lists the five global companies with the largest market cap gains in the past decade.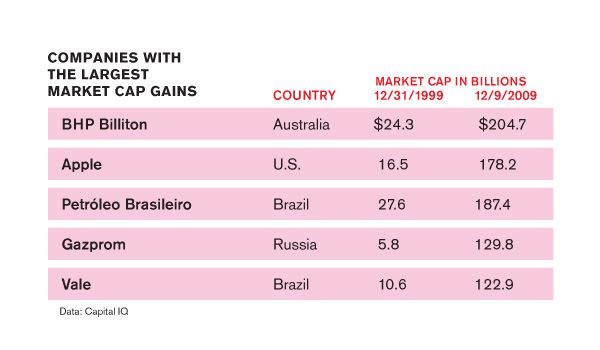 Of the five companies listed, two each are energy and mining companies and Apple is a hi-tech powerhouse. The growing prominence of emerging market companies is shown by the presence of the two Brazilian companies and Gazprom of Russia.
I wanted to see how much the common stocks of these companies would have returned had an investor invested in them 5 years ago. The table below shows the returns based on data provided by S&P:
[TABLE=266]
Note: Past performance is no guarantee of future results
Clearly US-based Apple had the best performance growing a $10K investment into $63,315 in just 5 years. Petrobras and Vale also have had incredible runs in the same period. It must be noted that miner BHP Billiton trades on the NYSE as BHP Billiton PLC (BBL) and BHP Billiton Ltd (BHP). The amount noted above is for BBL.