In the 1950s investors used to own stocks mainly for their dividends.They looked for companies that paid consistent dividends out of profits. If the stock appreciated in price that was an added incentive. However all that changed in the recent years when many investors started investing purely for price appreciation. This strategy failed miserably when many of the tech stocks got crushed in the dot-com crash and some non-dividend payers disappeared.
Even in a rising market investing in dividend stocks is still important for a diversified portfolio. Historically utilities and financials have been investors' favorites for dividends. But since the credit crisis began most of the financial stocks have substantially cut or suspended dividend payments. However there are still many high quality dividend paying stocks in utilities, consumer staples, health-care that offer excellent long-term opportunities.
The following are some good reasons to own dividend stocks stated in a recent Wall Street Journal article titled Dividend Payers Return to the Fore:
As of Nov 20th this year, non-dividend stocks have gone up 55% while dividend payers have increased only 21.3%
Valuations of dividend paying stocks look reasonable relative to the rest of the market now
If stocks go down again then dividend stocks will hold better. This is especially important since there are many issues the can affect stock markets adversely such the Dubai crisis, high unemployment rates, commercial real estate market bubble, etc.
Chart – Dividend Vs. Non-Dividend Paying Stocks: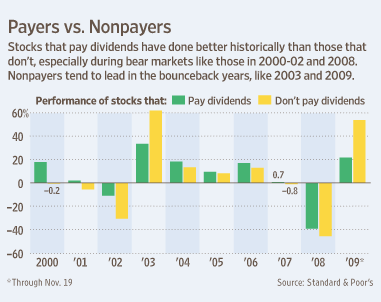 Dividend stocks have outperformed non-dividend stocks in bear markets. For example in during 1981-82, 1990 and 2000-02 market crashes they performed better than non-payers
Last year dividend stocks fell 39% compared to 45% for non payers
Companies that increased or started paying dividends have returned 9.5% yearly on average since 1972
Dividend stocks in the consumer staples, tobacco and health care sector hold lots of potential growth for the future
Some of the stocks recommended in the article include:
Consumer Staples:
Coca Cola (KO)
Current Dividend Yield: 2.87%
Raised annual dividends for the past 25 years
Tobacco:
Altria Group Inc (MO)
Current Dividend Yield: 7.16%
Raised Dividends this year
Lorillard Inc (LO)
Current Dividend Yield: 5.07%
Raised Dividends this year
Reynolds American Inc (RAI)
Current Dividend Yield: 7.01%
Raised Dividends this year
Health-Care:
Abbott Laboratories (ABL)
Current Dividend Yield: 2.96%
Covidien Ltd (COV)
Current Dividend Yield: 1.41%
Teva Pharmaceutical Industries Ltd (TEVA)
Current Dividend Yield: 1.19%
A few other top US dividend stocks: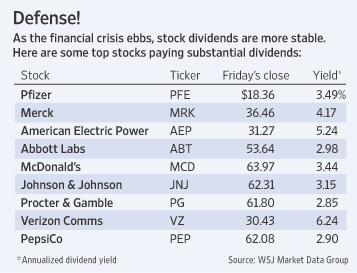 Note: Friday's close represents Friday, Nov 20th
Some top dividend paying foreign stocks are listed below:
1. Royal Bank of Canada (RY)
Current Dividend Yield: 3.59%
2.E.ON AG (OTC: EONGY)
Current Dividend Yield: 5.00%
3. National Grid Plc (NGG)
Current Dividend Yield: 4.20%
4.CPFL Energia S.A. (CPL)
Current Dividend Yield: 6.84%
5.Eni Spa (E)
Current Dividend Yield: 5.86%