In this post lets take a quick look at The Top 10 Global Insurance Companies by 2008 revenues.
On October 27th, ING (ING) one of the world's largest insurance companies, was forced to split itself into two in order to comply with the strict rules enforced by the EU on firms that received government financial aid during the credit crisis last year. ING plans to divest its US online baning operation ING Direct, insurance business and about 6% of the retail banking in domestic market. ING ranks 6th in the world based on its insurance revenues and 13th among European banks as of June this year.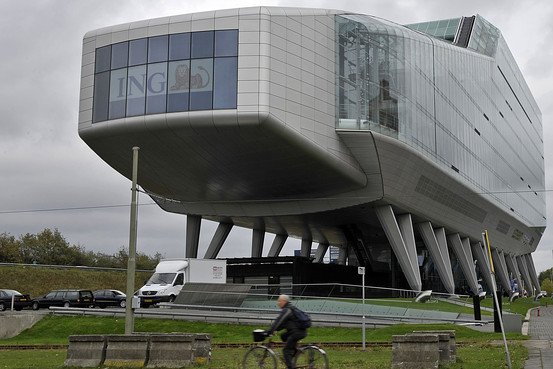 ING's World Headquarters, Amsterdam, The Netherlands
After the restructuring ING's Tier 1 ratio would stand at 7.6% forcing it to raise further capital form investors. ING plans to raise 7.5 EUR to repay half of the bailout funds it received from the Dutch government.This divestiture plan is a good strategic move for ING. It never made sense to operate in two unrelated fields – banking and insurance as a conglomerate. Globally firms that operate exclusively in insurance have thrived much better than banks that try to get into insurance. Firms generally end to perform better when they operate in one niche area that they can concentrate on with all their resources.
In addition to ING, what are the other Top Global Insurance companies?
The following chart shows the top global insurance firms by 2008 revenue: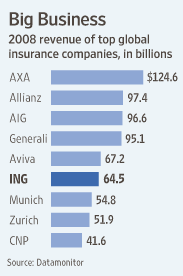 Source: The Wall Street Journal
France-based insurance company AXA (AXA) currently pays a 2.16% dividend and has nearly tripled from March lows. Insurance is a big business in France since the French save large amounts for retirement via insurance policies. German insurer Allianz recently delisted its stock form the NYSE. The fifth largest global insurance company Aviva (AV) of UK recently started trading in the NYSE. Zurich Financial Services AG of Switzerland (OTC: ZFSVY) has a 4.34% dividend yield.