The credit crisis followed by the recession triggered many bank failures and forced mergers worldwide. As a result of these mergers some of the banks which were already larger became larger in size creating the so-called "superbanks" especially in the U.S. These banking giants hold assets in excess of Trillions of Euros or US Dollars.
The following graphic from The Wall Street Journal shows the European banks with assets in Trillions of Euros in the first half of this year: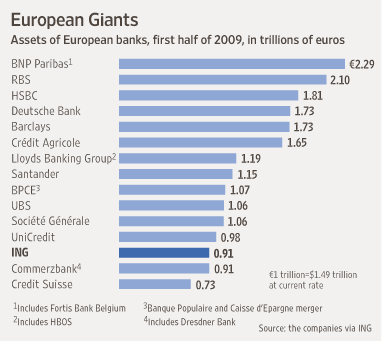 Except Unicredit, ING (ING), Credit Suisse (CS) and Commerzbank (OTC: CRZBY) all the other banks hold assets in excess of 1T Euros. BNP Paribas (OTc: BNPQY) of France is the largest in terms of assets held. Its competitor Societe Generale (OTC: SCGLY) is much smaller in size by assets. ING will soon itself into two divisions and spinoff its US online banking unit ING Direct.
In the US, just four superbanks have emerged from this crisis with each having over $1 Trillion in assets. These four banks are:
1. Citibank (C)
2. JPMorgan Chase (JPM)
3. Wells Fargo (WFC)
4. Bank of America (BAC)