With a population of 1.3 billion, China is the fastest growing economy in the world especially for consumer goods. In China, the sales of all kinds of consumer goods are rising. For example, demand for household goods such as refrigerators, washing machines is increasing due to a subsidy program initiated by the government to help poor and middle-income families afford those goods.
Here are a few recent headlines on China's consumer goods sales and the economy:
China Auto Sales Surge
Recovering Economy and Small-Car Push Lift Vehicle Demand
China Cosmetics & Toiletries Industry Continue to Flourish
Dell Says Strong Sales Growth to Drive China Share
Mobile phones ring in growth in emerging markets‎
To cash in on the explosive growth in the consumer goods sector, many foreign companies are investing heavily in China. Those companies that have established presence since as Coca Cola, Pepsi, Nestle, etc. are increasing their investments building new factories.
Which foreign companies will benefit from the growth of China's economy?.
One way to identify the answer to the above question is to analyze the top consumer brands in China. Foreign companies that have strong brands in China will have higher sales growth as the domestic consumption increases.
The Top 100 Consumer Brands in China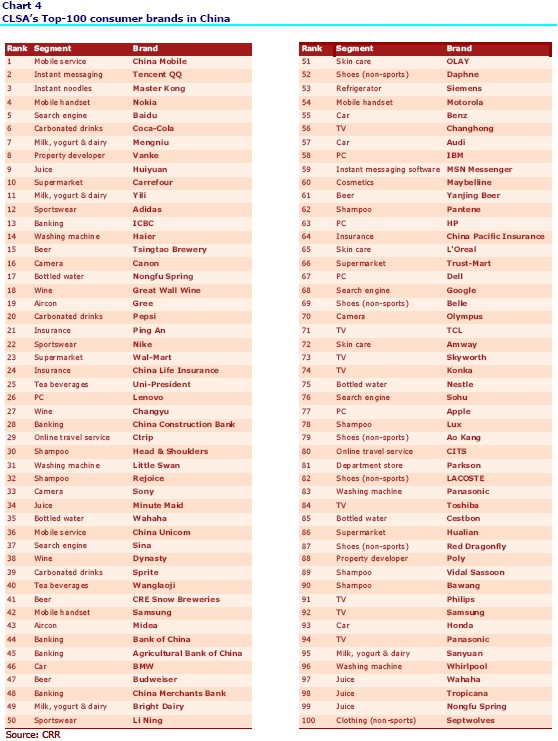 Source: CLSA launches inaugural China Brands Index and reveals China's top 100 brands, CLSA Asia-Pacific Markets
CLSA compiled the above list based on a comprehensive survey of Chinese consumers. From the report:
"In terms of preference, domestic Chinese brands make up more than 50% of the Top-100 brands preferred by our respondents, with seven of the top ten being Chinese. First in terms of preference is China Mobile – mobile services (No.1); followed by Tencent QQ – mobile services (No.2); Master Kong – instant noodles (No.3); Nokia – mobile handset (No.4); Baidu – search engine (No.5); Coca-Cola – carbonated drinks (No.6); Mengniu – milk, yoghurt and dairy (No.7); Vanke – property developer (No.8); Huiyuan – juice (No.9) and Carrefour – supermarket (No. 10) (Appendix chart 4)
Domestic brands dominate the apparel, home appliances, food and beverage sectors where catering to local tastes is critical, and internet services, where regulators support easier to control home-grown providers. Domestic brands also feature overwhelmingly in the state-dominated industries of banking, insurance and telecoms. For example, seventy-six percent of respondents are current China Mobile subscribers and 92.5% said they would not consider switching to a different operator.
Domestic brands underperform in areas reliant on innovation and design, such as high-end consumer electronics and cosmetics and luxury fashion where R&D and technical know-how is critical. In these sectors, brand value as a share of the retail cost of the product is higher."
Among the foreign brands in the top 100, American brands include Coca Cola (KO), Pepsi(PEP), IBM(IBM), Dell (DELL), Google (GOOG), Apple (APPL). Some of European brands in the list are Adidas(ADDYY), Siemens (SI), Nestle (NSRGY), Philips (PHI) etc. As the US consumer will no longer be the engine for global growth, these foreign companies would depend more on emerging markets particularly China and India to maintain their earnings growth.
While Google(GOOG) is the top search engine in the US, local firm Baidu (BIDU) is the most popular search engine in China. After its IPO on the Nasdaq in mid-2005, BIDU has become a traders dream stock and has had a wild run reaching over $400 in late-2007. After falling to nearly $100 last year the stock back over $400 again.