Banco Itau (ITU) is to split its stock June 9,2008 on a ratio of 5:4.
Stock Info:
Ticker: ITU
Country: Brazil
Sector: Banking
Current Share Price: $30.71 (All data as of May 30th)
Dividend Yield : 1.98%
Dividend Paid : Monthly
$10K invested 5 years ago: Now worth $95,307 (based on S&P Stock Report)
Split Details:
Record Date: June 4, 2008
Payable Date: June 9, 2008
Split Ex-Date: June 10, 2008
Multi Year ITU Performance Chart: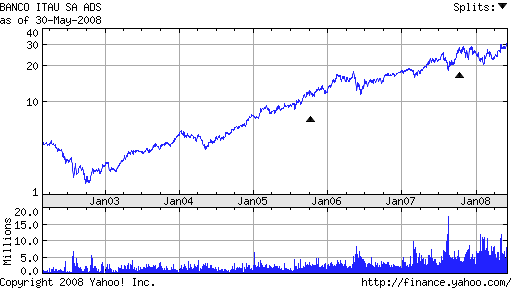 As seen from the chart above, the previous split was last year in October at a ratio of 2:1. Post-split, the stock was at 27.64.Now it is at $30.71. Not a significant increase in price since split.So it seems like the split is done now to offer more liquidity as the demand for all Brazilian stocks have gone up dramtically in recent months. This is due to the robust growth of the Brazilian economy.Folks looking for good returns are willing to take more risk of investing in emerging economies like Brazil, China, India, etc.
In the latest edition of his Blue Chip Growth Letter (a newsletter), Louis Navellier has said that Brazilian bank stocks are to go "ballistic" due to the heavy demand from pension funds and Arab investors.
From corporate site:
"Louis Navellier has one of the most exceptional long-term track records of any financial newsletter editor in America.According to The Hulbert Financial Digest, in the nine years from the beginning of 1998 to the end of 2006, the Blue Chip Growth Buy List has returned over 188.3%, which is nearly three times better than the Standard & Poor's 500."
ITU started this year from $25.86 and now has reached 30.71. Thats a growth of about 19%. Also trading volume has increased considerably since Jan 2007.