On April 6th, 2008 we wrote an article about Nestle's (NSRGY) proposal to split its shares. You can find that article here.This post is an update to that article. On May 23rd, Nestle's board of directors approved the split proposal. The split details are as follows:
Company: Nestle
Ticker: NSRGY
Record Date: June 27th,2008
Ex-Date: June 30th,2008
Split Ratio: 2.5 shares for 1 ADR share.
Current Nestle share price is $118.90. Let's say that the share price remains the same on June 27th. Then the price after the split will be $47.56.
Nestle's Swiss shares are being split at the ratio of 1:10. But that does not mean that the ADR share will be split at 1:10. Currently the ADR share trades at 4 for 1 Swiss share. Nestle's is changing the ratio between ADR to Swiss ordinary share to 1:1. So the correct split ratio for ADR shares will be 2.5 shares for each ADR share.
The current Swiss share price CHF 493.00. After the split it will trade for CHF 49.30. At today's exchange rate of 0.95934 to a US$, that will equal $47.30. This closely matches to the ADR split adjusted price of $47.56.
Nestle says it is is splitting the stock "to increase the liquidity and tradability" of its shares.
Nestle (NSRGY) Dividend History:
| Date | Dividends |
| --- | --- |
| 4/23/2012 | $2.11 |
| 4/18/2011 | $1.92 |
| 4/19/2010 | $1.49 |
| 4/24/2009 | $1.20 |
| 4/11/2008 | $1.21 |
| 4/20/2007 | $0.86 |
| 3/31/2006 | $0.69 |
| 4/8/2005 | $0.67 |
| 4/16/2004 | $0.56 |
| 3/28/2003 | $0.53 |
| 4/5/2002 | $0.38 |
| 3/30/2001 | $0.32 |
Nestle ADR Split History:
Jun 11, 2001 – 2: 1 Stock Split
Jul 3, 2008 – 25: 10 Stock Split
Nestle (NSRGY) Long-Term Return Chart:
Click to enlarge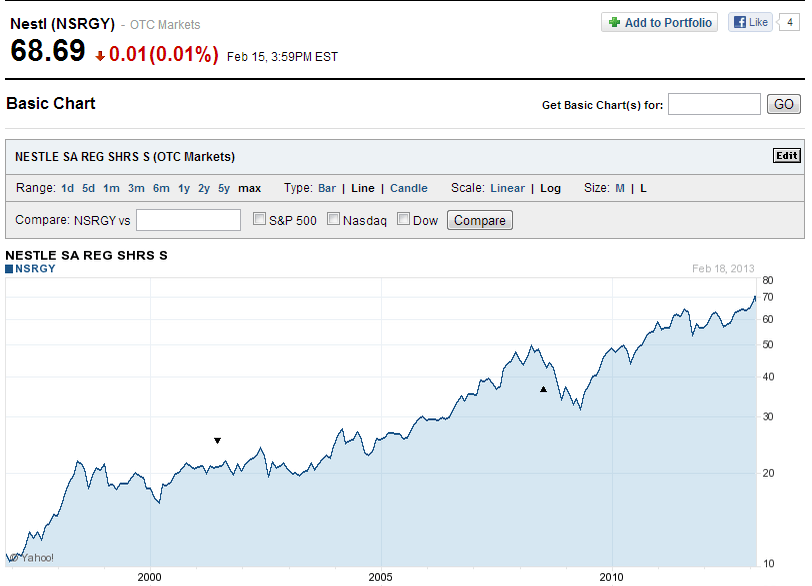 Source: Yahoo Finance
Related Post: