The U.S. is the world's largest economy with a GDP of $16.72 in 2013 based on purchasing power parity according to the the CIA World Factbook. The next largest economies are the EU, China, India and Japan in that order based on 2013 estimates. Compared to the U.S. economy, many of the developed world's economies are small. For example, the German economy is just $3.2 Trillion in size compared to the $16.0 Trillion U.S. economy.
Since the U.S. economy is so huge, the economies of each of the individual states in the country are also big. In fact, their sizes are comparable to the economies of many countries. Other countries have a lot to catch up in terms of productivity and economic growth.
Click to enlarge
US Map: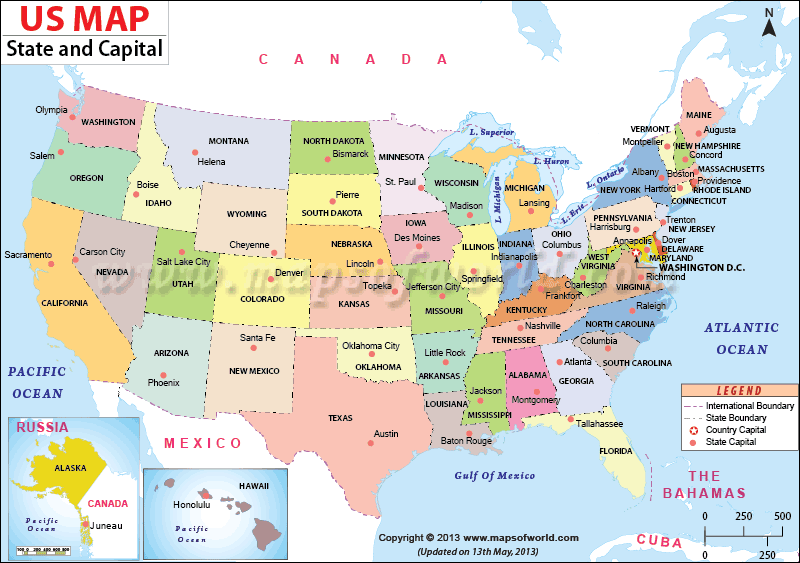 Source: MapsofWorld.com
The following map puts the sizes of the economies of individual US states in perspective.  The whole Australian economy is just about the size of the Texas economy.
Source: Unknown
In an article in September I wrote that the payout ratio of U.S. is on a long-term decline and is now less than 40%. The payout ratio for European companies is on an uptrend and has reached about 50%.
Compared to U.S. and European companies, Japanese companies are very stingy when it comes to rewarding their shareholders in the form of dividends. In fact, income investors generally do not consider Japanese stocks when evaluating the equity universe in the  the developed world for dividend stocks. As of Nov 13, the dividend yield for U.S. stocks is 1.9% while the yields on the France, Germany, Spain and UK stocks are 3.1%, 2.8%, 4.4% and  3.8% respectively according to FT Market Data. The dividend yield for Japan stocks is lower than that of the U.S. stocks at just 1.7%.
The dividends paid by companies in the TOPIX index is rising as shown in the chart below:
Click to enlarge
However the dividend payout ratio has been stagnant and has stayed below 25% in the past few years:
Source: Evolving Markets, Oct 2014, Nikko Asset Management Asia Limited
Though Japanese companies are generating higher earnings they are not increasing the payouts to shareholders.According to a report by Nikko AM, the current Abe administration may start emphasizing the importance of dividend payouts congratulating companies that increase their payouts.
Since the current payout ratio in Japan is much lower than in the U.S. and Europe, Japanese companies should increase their payouts considerably in order catch up with other markets in the developed economies. Higher dividend payouts would also attract more domestic and foreign investors to invest in Japanese stocks.
Related ETF:
iShares MSCI Japan Index (EWJ)
Disclosure: No Positions
Year-end to-do list (Fidelity)
Global Equities: a long-term investment strategy (Invesco Perpetual)
Going Global: Trading Foreign Stocks OTC (Charles Schwab)
The Nuances Of The Malaysian Market (Malaysia Finance)
25 years after the Wall (beyondbrics)
The 10 most influential business books of the past decade (Financial Post)
China is old news – here's where we should be investing (MoneyWeek)
WORLD'S SAFEST BANKS 2014 (Global Finance)
The National Mall, Washington DC