The World's Highest Mountain Peak is the famous Mount Everest in Nepal. Everest stands at an astonishing 26404.2 feet. The second highest peak is K2 at 28,251 feet. It is also located in the Himalayas. Climbing these peaks is not for the faint hearted. Just this week a Seattle-based US doctor died trying to climb Everest. For many people hiking to the base camp of these peaks is in itself an adventure and a challenge. One of the popular ones is the Annapurna Base Camp or ABC trek.
With that brief intro, the following chart shows The World's Top 10 Highest Peaks:
Click to enlarge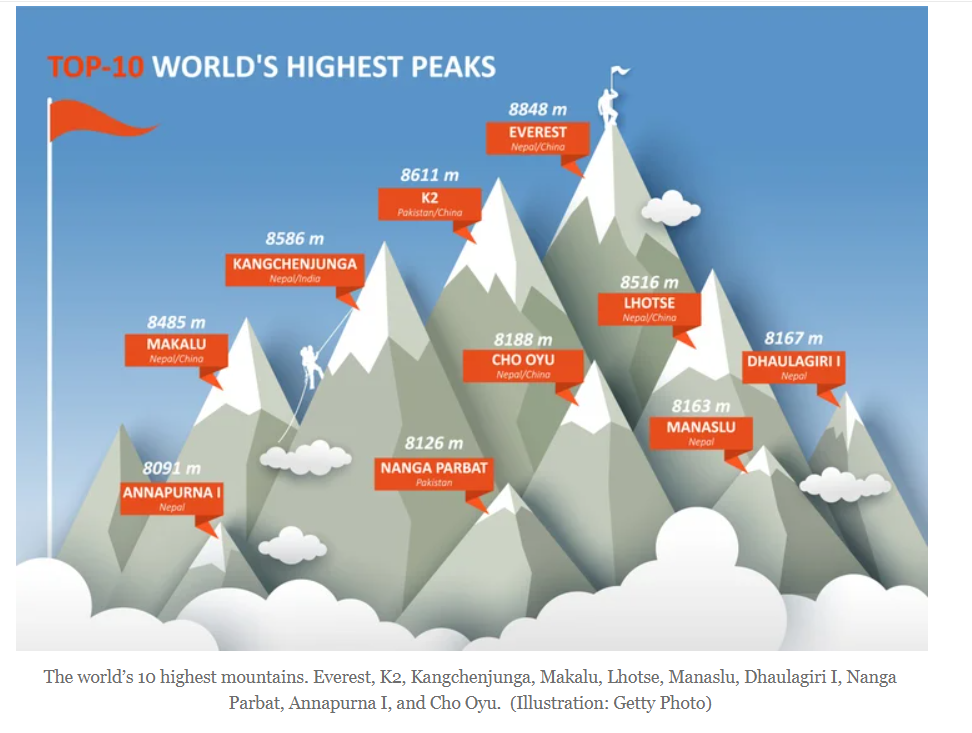 Source: Is K2, the "Savage Mountain," Becoming Less Savage?, Climbing.com
Below is a short excerpt from the above article:
K2 (8,611 meters/28,251 feet), or "Chogori," is the world's second highest mountain, after Everest (8,048 meters). Unlike Everest and the eight other highest mountains on Earth, K2 is not located in the Himalaya, however, but in Pakistan's Karakorum. K2 is situated on the border of the Pakistani-Kashmir region Gilgit-Baltistan, and a slice of Kashmir administered by China as part of Xinjiang. All 14 of the world's 8,000-meter peaks, and the vast majority of the 100 highest mountains on the planet, are located in either the Karakorum or Himalaya.

Also known as the "Savage Mountain," K2 is generally considered among the most difficult of the world's 8,000ers, and its death rate was historically one of the highest of all 14 mountains, along with Annapurna I (8,091 meters) and Nanga Parbat (8,126 meters). The former sits at a death rate of approximately 25%, while Parbat and K2 have traditionally held death rates in the low 20 percents. However, swarms of K2 ascents in recent years, notably in 2022, are contributing to lowering the K2's overall death rate, which currently sits around 13%. K2 was the last of the 8,000-meter peaks to see a winter ascent (in 2021).
The full piece is worth a read.