Meta Platforms, formerly known as Facebook used to have a market capitalization of over $1 trillion last year. This past Friday the market cap was just over $240 billion !. The collapse of this tech darling which was part of the so-called FANG group, in such as short period is astonishing indeed. In October, Meta (META) lost over 25% of its value in one day after quarterly earnings report. From a peak of $353 the stock price ended up at just over $90 on Friday. Year-to-date the stock has plunged by over 73% as shown in the chart below. As a constituent of the S&P 500 and a popular large-cap tech giant, Meta is a major holding in many mutual funds and ETFs. The dramatic fall will hurt them as well.
Meta's YTD return: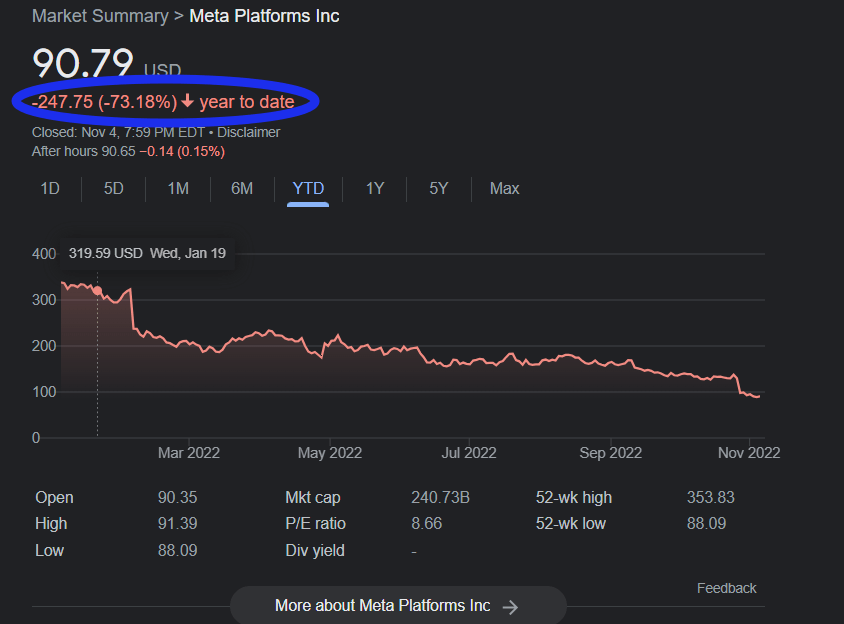 Source: Google Finance
Meta's 5-year return: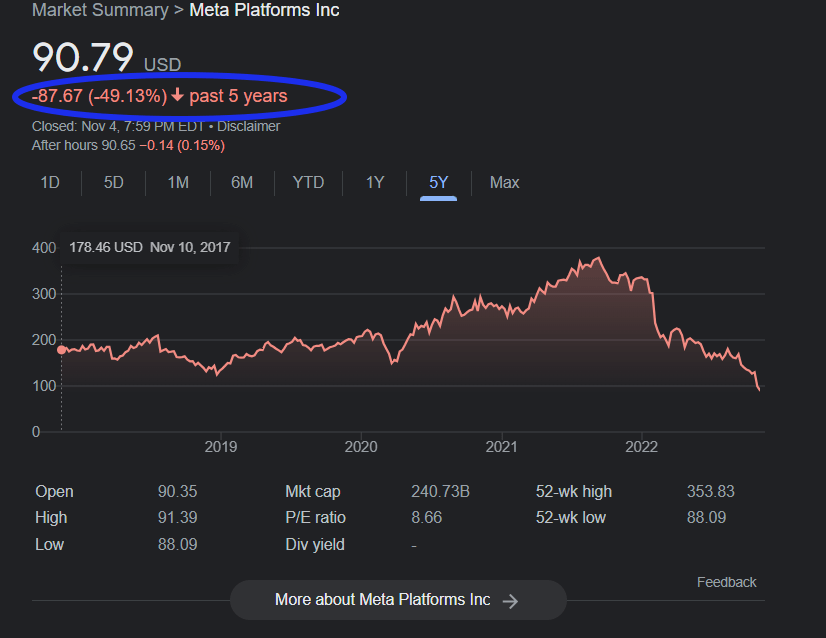 Source: Google Finance
I came across an excellent piece by Renaud Foucart at Asia Times on the decline of Meta. The following is a brief excerpt from the article:
Facebook may not be the original social media platform but it has stood the test of time – until recently.

Meta, the company that owns Facebook, Instagram and WhatsApp, saw its value plummet by around US$80 billion in just one day at the end of October, after its third-quarter profits halved amid the global slowdown. Meta is now valued at around $270 billion compared with more than $1 trillion last year.

Several issues have caused investors to turn away from the social media giant, including falling advertising revenue, a conflict with Apple over its app store charging policy, and competition for younger audiences from newer platforms such as TikTok.

Meta's chief executive Mark Zuckerberg has also used his majority control to double down on his ambitions for the "metaverse", a virtual reality project on which he has already spent more than $100 billion – with questionable results according to initial investor and media reaction. Zuckerberg has promised even more investment in the metaverse next year.

Source: New era upside of Meta's share price collapse, Asia Times
The full article is worth a read.
Meta is basically an advertisement company that promotes itself as some kind of social do-gooder. It needs millions of people on its platform posting content with which it entices advertisers. So it is no surprise that investors bid up to high valuations only to realize the future is not so rosy after all. Accordingly they have re-priced the stock. Only time will tell if Meta's stock is worth $90 or $10.
Disclosure: No positions