One of the popular myths in the field of equity investing is that large companies are too big to fail. Nothing could be farther from the truth. Over and over again this has proven to be correct. For instance, during the dot com boom peak in 2000, tech giants Cisco(CSCO) and Intel (INTC) were in the top 10. But by 2005, they were gone from the list.
Similarly GE(GE) was the top firm in 2005. By 2020 it got kicked out as well.
The Top 10 firms in the S&P 500 continues to change over the years from 1980 as shown in the table below:
Click to enlarge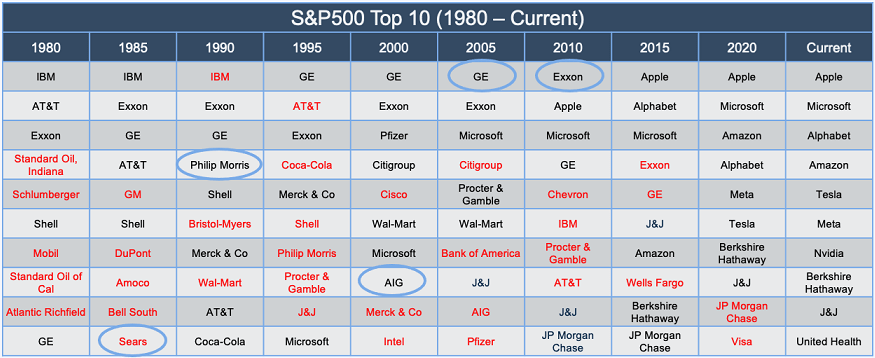 Data Source: S&P Dow Jones, Spheria
Source: Size doesn't matter when it comes to risk, Gino Rossi, Firstlinks
The key takeaway is that no firm is too big to fail and that today's best would be tomorrow's worst. So investors have to keep this mind and make portfolio allocations accordingly. It is never a good idea to put most of one's assets in the top firms in the hope that nothing would uproot them.
Related ETF:
SPDR S&P 500 ETF Trust (SPY)
Disclosure: No Positions